New 3D Scanners Include 50 Free Seats of Scan-To-CAD and Inspection Software
Press Release Summary: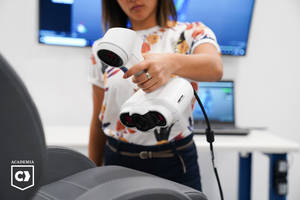 Accuracy ranges up to 0.250 mm and measurement resolution up to 0.250 mm
Uses structured white light technology to scan objects made of any material, surface type or colour
Ideal for reverse engineering, industrial design and quality control
---
Original Press Release:
Creaform Adds ACADEMIA 50 3D Scanner to its Educational Solution Suite
Engineering and design teachers will benefit from enhanced 3D scanning performance
Lévis, Canada, September 10, 2019 — Creaform, a worldwide leader in portable and automated 3D measurement solutions, today announced that is has added the ACADEMIA 50 3D scanner to its ACADEMIA educational solution suite. This professional-grade, portable 3D scanner is the ideal solution for teachers looking to show students the benefit of handheld 3D scanners and their use in real-life applications, such as reverse engineering, industrial design and quality control.
Easy to set up and use by teachers and students of all levels, ACADEMIA 50 uses structured white light technology to scan objects made of any material, surface type or colour. Its technical specifications highlight its performance levels, with an accuracy of up to 0.250 mm (0.010 in) and a measurement resolution of up to 0.250 mm (0.010 in).
ACADEMIA 3D scanners are part of a turnkey educational solution that includes: 50 free seats of scan-to-CAD and inspection software to show students how to address any conventional or innovative engineering workflow, five-year ACADEMIA Customer Care Plan and self-training documentation. Creaform offers teachers a free Creaform ACADEMIA Sample Kit that gives academics didactic material to enhance their curricula.
"This latest addition to our ACADEMIA educational solution suite attests to Creaform's commitment to the educational sector by offering the designers and engineers of tomorrow the tools they need to help them excel in their careers," said François Leclerc, Marketing Program Manager at Creaform. "We offer a complete education solution that does not sacrifice on quality or performance — all at a cost the educational institutions can afford."
Creaform also recently launched Go!SCAN SPARK and HandySCAN BLACK for researchers in science and engineering, applied sciences, and more. These two new 3D scanners put metrology-grade 3D measurement technologies into the hands of researchers for any type of project, regardless of complexity. The same industry-leading software, customer care plan and documentation are available with these 3D scanners.
About Creaform
Creaform develops, manufactures, and sells 3D portable and automated measurement technologies and specializes in engineering services. The company offers innovative solutions for applications such as 3D scanning, reverse engineering, quality control, non-destructive testing, product development, and numerical simulation (FEA/CFD). Its products and services cater to a variety of industries, including automotive, aerospace, consumer products, heavy industries, healthcare, manufacturing, oil and gas, power generation, research and education.
With headquarters and manufacturing operations in Lévis, Québec, Creaform operates innovation centers in Lévis and Grenoble France, and has direct sales operations in Canada, USA, Mexico, Brazil, France, Germany, Italy, Spain, China, Japan, Korea, Thailand and Singapore. Creaform is a part of AMETEK Ultra Precision Technologies, a division of AMETEK Inc., a leading global manufacturer of electronic instruments and electromechanical devices, with annual sales of approximately $5 billion.
Press contacts:
Andrea Schwarz
Regional Marketing Manager - USA
T: +1 855.939.4446 x 766
Alexandra Ortiz
Regional Marketing Manager – Canada & Latin America
T: +1.888.381.0039 x 248
Related