New 3D Metal Printing Machine Allows Greater Surface Finish Quality
Press Release Summary: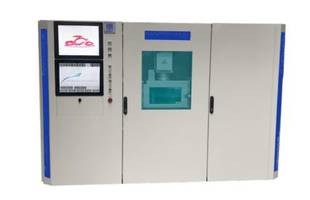 Offers quicker transition from design to production of the final part
Produces small, complex parts in a very affordable way
Suitable for medical, food service businesses, construction and automotive companies
---
Original Press Release:
3D Laser Sintering Manufacturing
As veterans in the laser industry, we thrive for perfection. Thus, we are thrilled to introduce our manufacturer's 3D Metal Printing Machine. First announced at the Chicago Fabtec in 2019, this technology has far proven its usefulness. From the drawing board to reality, 3D Printing has become a significantly sought-after tool for many major companies. Benefiting industries across the board such as medical and food service businesses, 3D Manufacturing has taken on the issue of producing small, complex parts in a very affordable way. With this incredibly unique technology, producing these complex parts is no longer time-consuming or costly. The medical industry especially has benefited from this, with low cost, customized prosthetic limbs, resulting in patients with missing limbs to lead higher-quality lives. Furthermore, Construction companies are incorporating this 3D technology into building small homes for much lower costs. Automotive companies as well have benefited for this technology, such as Ford. Fuel nozzles and engine covers for jet aircraft, in example, are just some of the parts that are using 3D printing to manufacture parts.
Advantages to 3D Metal Printing:
Reduction in Lead Times – Quicker transition from Design to production of the final part.
Cost Advantages Through the Reduction of Material Waste – With this technology, raw material is added and formed layer by layer, rather than cut out of a bulk figure. Therefore, the material is placed only where needed, and the cost is reduced by how much material is needed to complete a product.
New Approach to Design – What's more unique than a 3D printed structure? 3D printing allows for the production complex structures – there's no additional time or money being used to design a specific shape or part. Traditionally, it was necessary to use several separate parts within a welded structure. Now, just one part is required to manufacture a single piece.
Technologies such as electron beam melting or selective laser melting allow to manufacture objects from metal powders, which are as good, if not better, than those made with conventional techniques. Additionally, our manufacturer's 3D printing systems allow greater surface finish quality and less post-processing compared to traditional manufacturing.
When it comes to the materials, there are many interesting novelties which could replace metals commonly used in the industry. It is possible to produce various amorphous, precious, and refractory metals in today's additive manufacturing technology. Some of the platinum alloys engineered for 3D printing exhibit significantly higher mechanical strength than the pure metal, and at the same time have a similar resistance to oxidation. High-strength aluminum and titanium alloys but also customer-specific alloys may be chosen, which provides the possibility to customize the material properties in order to meet technical requirements of the particular project, so your options are not limited.
Why not contact us for a quote or samples? We are here for all your 3D printing needs! Contact us today!
Technical Specifications:
Laser Power: 500 Watt – Water Cooled
Laser Source Type: Ytterbium Fiber Laser Wavelength 1080 nm +/- 2 nm
Growth Chamber: 6.3" Wide X 9.8" Deep X 8.75" Height
Materials: Stainless Steel, Inconel, Titanium, Tool Steel, etc
Air Supply: 90 psi @ 1 cfm
Argon Supply: 90 psi @ 0.01 cfm
Power Supply: 220 VAC Single Phase @ 25 Amps
Scan Speed: 200" per second
Feeder: Thread
Software: Windows 10 / OmniMark 100/ STL Slicers / Magics compatible
Optics: F-Theta Lens with distortion correction
Machine Size: 90.5" Wide X 34.5" Deep X 78.5" Height
Machine Weight: 2,200 lbs
More from Welding Equipment & Supplies