New 3910 Automated Programming System from BPM Uses On-the-Fly Vision Centering
Press Release Summary: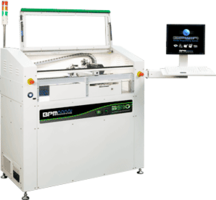 The 3910 Automated Programming System comes with up to four 9th Generation universal programming sites that can program up to 16 devices simultaneously. The unit is rated for 1,432 devices per hour. It features WhisperTeach™ option that automatically teaches the critical Z-height with 15-micron accuracy for pick/place location. The system is embedded with Vector Engine that increases throughput for high-density eMMC devices.
---
Original Press Release:
BPM Microsystems Innovates with the 3910 Automated Programming System
HOUSTON, Sept. 17, 2018 /PRNewswire/ -- BPM Microsystems announced today their latest Automated Programming Systems (APS) — the 3910. Rated at 1,432 Devices per Hour (DPH), the 3910 is the fastest device programming system in its class and price range. By utilizing on-the-fly vision centering, the engineering team at BPM increased real production performance by roughly 70% compared to the 3900, while maintaining a mid-level price point in the APS market.
"The 3910 delivers the lowest total cost per device by combining high throughput, ease of use, fast setup, high yield and the flexibility to program virtually any device on a single platform. All this is backed up by the most powerful software in the industry and our award-winning customer service team," said William White, founder and President of BPM Microsystems.
"We have seen a lot of market excitement with the 3910 APS and we have already taken numerous orders," said Colin Harper, Product Manager on the 3910. "By combining precision on-the-fly component alignment with optimized motion control, the 3910 is able to achieve real throughput previously only produced with the higher-priced systems. With reliable CSP support and high throughput, the new 3910 is truly in a class by itself," says Harper.
The 3910 offers WhisperTeachTM, one of BPM's award-winning exclusive features. WhisperTeachTM automatically teaches the critical Z-height with 15-micron accuracy for each pick/place location even for very small packages, saving an average of 83% of the time required for job setup and increasing yield.
On-the-fly vision alignment is achieved with CyberOpticsTM, originally only available on their flagship product, the 4900. With full-time alignment, the new system can maintain maximum speeds without sacrificing precision. The 3910 has up to four 9th Generation high-speed universal programming sites, supporting up to 16 devices programmed simultaneously. Vector Engine with BitBlast, standard on all BPM's 9th Gen systems, increases the throughput for high-density eMMC devices, compared to other systems. For example, on a 4GB Toshiba device, Vector Engine with BitBlast reduces program/verify time by over 8 minutes per device. In a direct comparison with one of BPM's major competitors, that same device finished over 300 seconds faster on the 9th Gen programmer.
BPM will continue to offer the 3900 as a less expensive alternative for customers who don't require the increased throughput. 
To find out more, please visit BPM's newly updated website, https://bpmmicro.com/programmers/automated-programmers/3910-2
Media Contact: 
Scott Bronstad
Marketing Communications Manager 
Phone: +1-713-688-4600 Email: scott_bronstad@bpmmicro.com web: www.bpmmicro.com 
More from Electronic Components & Devices