New 316 Stainless Steel Latch Features High Tensile and Impact Strength
Press Release Summary: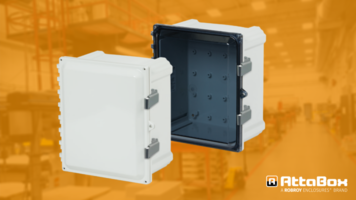 Available for opaque and clear Heartland® polycarbonate enclosures
Maintains a 4X rating and performs reliably within a wide temperature range
Snaps on-and-off fast by hand, making it simple to install and replace
---
Original Press Release:
AttaBox® Enclosures Introduces a New 316 Stainless Steel Corrosion-Resistant Latch Available Standard for all Heartland® Polycarbonate Enclosures
Belding, Michigan --- AttaBox® Enclosures, a brand of Robroy Enclosures® –- the world's most specified non-metallic electrical and industrial enclosures --- announces the availability of a new, corrosion-resistant, 316 stainless steel latch standard for all sizes of its Heartland® Series polycarbonate enclosures.
The new strong, secure-fitting stainless steel latch maintains a 4X Rating. It is not affected by UV degradation, features high tensile and high-impact strength, and performs reliably within a wide temperature range.
Available for both opaque and clear Heartland® polycarbonate enclosures, the new stainless steel latch snaps on-and-off quickly by hand, making it easy to install and replace. The latch comes standard on any Heartland® enclosure --- just add "SS" to the end of any part number --- or as a two-latch kit.
AttaBox® Enclosures brings you immediate access to 12 full non-metallic enclosure product lines encompassing more than 800 part numbers and more than 30 configurations –- all providing superior on-the-job physical properties and performance value for diverse MRO, electrical, instrumentation, HVAC, mechanical and industrial applications. Our unsurpassed range of off-the-shelf and customized fiberglass and polycarbonate enclosures are proven to protect themselves so they will always protect the valuable contents housed within them. AttaBox®  is an innovative force in the engineering, manufacturing, and marketing of non-metallic enclosures. We make it easy for our enclosure users to get reliable NEMA 4X and UL-certified protection by making outstanding product and service quality quickly available through diverse channels including price-competitive online e-commerce, and direct business-to-business one-stop availability. Our state-of-the-art manufacturing technology is U.S.-based and vertically integrated to provide total solutions to application challenges demanding the best from protective enclosures.
For more information: 616-794-0700, or visit: www.attabox.com
More from Electrical Equipment & Systems