New 3055D and 3056D Sensor Series With Operating Temperature of 325 degree F
Press Release Summary: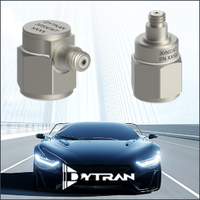 3055D features side 10-32 radial connector, while 3056D features top 10-32 axial connector
Available with low noise, high resonant frequencies and frequency response of 1 Hz to 10 kHz
Features a wide hex design for simple installation
---
Original Press Release:
3055D & 3056D Series Extensions
Dytran Instruments, Inc. of Chatsworth, CA is excited to announce the addition of high-temperature models to two of our most popular IEPE families of products: the 3055D and 3056D Series. The new 3055D7-D10, D13, D14, and 3056D9-D14 models feature an extended operating temperature range of 325°F (163°C) for use in higher temperature testing environments.
These new models include the standard performance features that are found in the original series. The 3055D and 3056D families are characterized by low noise, high resonant frequencies (> 25 kHz), a tight sensitivity specification of ±5%, and a frequency response of 1 Hz to 10 kHz. The welded titanium housing yields a durable, yet lightweight product. Especially popular for modal response and shaker control, the 3055D and 3056D Series also have strong demand in many general-purpose applications.
Both sensor series offer true base isolation, setting them apart from other products on the market. Other similar sensors offer electrical isolation achieved through an external, isolated mounting base. The use of this separate accessory adds additional weight to the sensor. It also adds height to the sensor, which can adversely affect the frequency response. These product families also feature a wider hex design for ease of installation.
What differentiates the 3055D from the 3056D is the location of the connector. The 3055D Series features a side 10-32 radial connector, while the 3056D Series features a top 10-32 axial connector. Optional TEDS capabilities are also available for both series.
For more information about the 3055D Series or the 3056D Series, visit www.dytran.com. You can also call us at 818-700-7818 or email sales@dytran.com for applications assistance and pricing.
About Dytran Instruments, Inc.:
Established in 1980, Dytran Instruments, Inc. (www.dytran.com) is a leading manufacturer of piezoelectric and VC MEMS accelerometers, force and pressure transducers, and associated electronics. Dytran products are used extensively in aerospace, automotive, test and measurement and industrial applications. Dytran products are widely utilized for on-board measurements in a variety of aerospace, commercial and military applications. Dytran maintains a world-class facility in Chatsworth (Los Angeles) California, USA for the design, development, and manufacture of accelerometers, cables, and accessories. This vertically integrated facility includes engineering, administrative, manufacturing, and automated machining capabilities. In addition, Dytran products are available worldwide via a network of distributors and representatives.
Editorial Contact:
Judith Villalobos
Marketing Communications Manager
Dytran Instruments, Inc.
21592 Marilla Street
Chatsworth, CA 91311
818-700-7818
jvillalobos@dytran.com
Contact This Company Download Spec Sheet
More from Sensors, Monitors & Transducers