New 3-Slot OpenVPX Backplane Comes with BKP3-CEN03-15.2.9 Profile
Press Release Summary: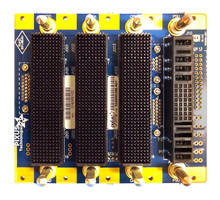 Pixus' 3-Slot OpenVPX Backplane is designed for small Mil/Aero applications where size, weight and power is significant. The unit is offered with VITA 62 power supply slot and PCIe Gen3 signal performance. The backplane can be used with customizable I/O for Air Transport Rack Enclosures.
---
Original Press Release:
Pixus Announces New Compact OpenVPX Backplane
Waterloo, Ontario — Aug 2, 2018 – Pixus Technologies, a provider of embedded computing and enclosure solutions, now offers a 3U, 3-slot OpenVPX backplane for small Mil/Aero and other applications where size, weight, and power is at a premium.
The 3-slot 3U OpenVPX backplane from Pixus is ideal for compact systems and can have customizable I/O for ATR (Air Transport Rack) enclosures. It features a VITA 62 power supply slot and PCIe Gen3 signal performance. The backplane has a BKP3-CEN03-15.2.9 profile. Conformal coating is optional.
Pixus provides a vast selection of OpenVPX enclosures, backplanes, components, and accessories. The company also offers solutions in MicroTCA, AdvancedTCA, CompactPCI Serial and VME64x.
About Pixus Technologies
Leveraging over 25 years of innovative standard products, the Pixus team is comprised of industry experts in electronics packaging. Founded in 2009 by senior management from Kaparel Corporation, a Rittal company, Pixus Technologies' embedded backplanes and systems are focused primarily on ATCA, OpenVPX, MicroTCA, and custom designs. Pixus also has an extensive offering of VME-based and cPCI-based solutions. In May 2011, Pixus Technologies became the sole authorized North and South American supplier of the electronic packaging products previously offered by Kaparel Corporation and Rittal.
Company Contact:
Justin Moll,
Pixus Technologies
Justin.moll@pixustechnologies.com
519-885-5775
More from Thermal & Heating Equipment