New 3.4-inch Round Display with White LED Backlighting
Press Release Summary: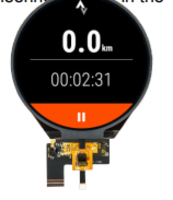 Available with ~ 400 cd/m square brightness
Offers IPS, black and transmissive display mode
Operating temperature ranges from 30°~85°
---
Original Press Release:
Round TFT LCDs are Gaining Popularity as They Have Become a Perfect Replacement for Analog Gauges
Round TFT LCDs are gaining popularity as they have become a perfect replacement for analog gauges, and they help make any application look versatile. Microtips Technology has introduced a new 3.4-inch round display, with a high resolution of 800 x 800 pixels. This display features a color TFT LCD panel, FPC, driver IC, CTP, and backlight. "This 3.4-inch round TFT LCD display module is suited for compact devices such as smart gauges, watches, as well as meter applications. They are also ideal for various types of home automation products as well as white products," says Nadim Rahman, Chief Technical Officer, North America for Microtips Technology.
Key Features of 3.4 Inch Round Display
Display Size: 87.60 x 87.60 mm
Resolution: 800X800 pixels
Backlighting: White LED
Active Display Area: 87.60 x 87.60 mm
Outline: 99.0 x 96.6 x 3.98
Interface: MIPI interface
Operating Temperature: -30°~85°
Display Mode: IPS/Normally Black/Transmissive
Brightness: ~ 400 cd/m square
Since its inception, Microtips Technology has been delivering custom LCD modules to fulfill various application requirements. The company also provides these round TFT LCDs in different sizes and configurations to meet your application requirements.
Microtips Technology provides local sales and engineering support in the Americas, Europe, and Asia.
(888) 499-8477
Email: mtusainfo@microtipsusa.com
Link: www.microtipsusa.com
More from Fluid & Gas Flow Equipment