New 2/1EF Hydrofoamers Come with Chemical Flow Meters for Accurate Dose Rates
Press Release Summary: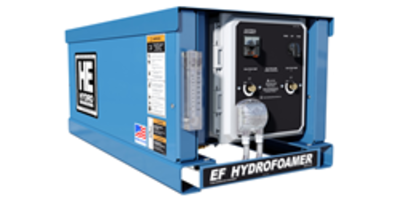 Hydro Engineering's 2/1EF Hydrofoamers consist of one or two chemical pumps with infinite variable volume control and offers mix ratios up to 2 to 1. Units are offered with 3/8 in. X 50 ft, 75 ft and 100 ft discharge hoses. The fresh water function enables the quick purge of chemical from all discharge lines and eliminates the build up of any chemicals on lines, guns, or discharge nozzles. The foamers can be stackable up to four units and can be automatically started with the pull of the trigger.
---
Original Press Release:
Hydro Engineering Designs High Capacity Soap Foaming and Chemical Mixing System
Cleaning, sanitizing and disinfecting applications are enhanced with high capacity foaming chemical application. By adding precision chemical metering, the entire requirement is complete and the HF/1 Hydrofoamer does both.
SALT LAKE CITY (PRWEB) JUNE 12, 2018
Cleaning, sanitizing and disinfecting are all enhanced by applying the respective products via a foam application system. Delivering chemical as a foam extends dwell time, makes chemistry more effective and can reduce the amount of chemicals used. Almost all chemical products require mixing prior to applying.
Hydro Engineering's new 2/1EF Hydrofoamer offers a new approach applying foam with several features not found in other systems.
1. 2/1EF includes one or two high volume chemical pump (s) with infinitely variable volume control to provide chemical mixing on board. Mix ratios up to 2 to 1 (water to chemical) can be attained. 
2. Chemical flow meter(s) assure dose rate accuracy. 
3. Single 3/8" X 50' discharge hose is standard. 75' and 100' discharge hoses are available. 
4. Pulling the trigger on the gun/wand assembly automatically starts the 2/1EF. 
5. Fresh water flush function allows chemical to be quickly purged from all discharge lines and insures no chemical build up in any lines, guns or discharge nozzles. 
6. Trigger control of foam discharge with wide angle, long throw foaming nozzle. 
7. System is stackable. Up to four units high to conserve space in equipment rooms.
The Hydrofoamer was designed initially for equipment room installations. Designed for multiple cleaning, sanitizing or disinfecting requirements to be provided from a central equipment room and plumbed where required. 2/1EF delivers thick rich foam at a safe low pressure. No compressed are is required. A water supply and 110 Volt (220 Option), are the only utilities required.
Contact Information
Alan McCormick
Hydro Engineering, Inc.
http://www.hydroblaster.com
+1 801-972-1181 Ext: 100
Kyler Peek
Hydro Engineering, Inc.
http://www.hydroblaster.com
(800) 247-8424