New 1U High Power Supply with Input to Output Isolation of 4,000Vac
Press Release Summary: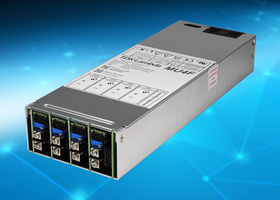 Provides 150W to 400W rated output modules and provides continuous coverage from 3.3V to 104Vdc
Efficiencies of up to 90% and will operate in ambient temperatures of -20°C to +70°C
Applications include medical, dental, broadcast, test and measurement, professional audio and industrial equipment
---
Original Press Release:
"Quiet by Design" Low Acoustic Noise 1U High Modular Power Supply Delivers up to 800W with BF-Ready Medical Isolation
TDK Corporation (TSE:6762) announces the introduction of the TDK-Lambda brand MU4 series of 1U high power supplies. Featuring very low acoustic noise and BF-ready medical isolation, the MU4 can provide 600W with an input of 85 to 264Vac (derate below 90Vac) and 800W with a 180 to 264Vac input. Up to five fully isolated output voltages can be easily configured using TDK-Lambda's on-line quick product finder. Target applications include medical, dental, broadcast, professional audio, test and measurement, and industrial equipment requiring a low 41mm height and/or low audible noise.
A patented intelligent fan speed control circuit uses a microcontroller algorithm to monitor the temperature of the primary converter and each individual secondary module. This enables the speed of the fan to be accurately adjusted and optimized to provide an audible noise as low as 36dBA, even with an 80% load. A low noise level improves patient comfort and reduces operator fatigue.
Initially nine 150W to 400W rated output modules are available, providing continuous coverage from 3.3V to 104Vdc. Each module includes remote on/off, remote sense and an output good signal as standard. Options for the MU4 include a 5V / 2A standby voltage, fan fail signal, inhibit and enable for all outputs, AC fail, PMBus™ communication and current share for configurations requiring parallel operation.
The product has efficiencies of up to 90% and will operate in ambient temperatures of -20°C to +70°C, derating linearly to 50% load above 50°C. The earth leakage current is less than 300µA - including all tolerances, and the touch current is <100µA. The size is a compact 89 x 41 x 257.5mm, 3.5 x 1.61 x 10.1 inches, (W x H x D). A seven-year warranty is provided as standard.
The MU4 series has an input to output isolation of 4,000Vac (2 x MoPP), an input to earth isolation of 1,500Vac (1 x MoPP), and an output to earth isolation of 1,500Vac (1 x MoPP) for suitability in B and BF rated medical equipment. Safety certification is to IEC/EN 60601-1, ES 60601-1. IEC/EN/CSA/UL 62368-1, (IEC/EN 61010-1 designed to meet) and is CE / UKCA marked to the Low Voltage, EMC and RoHS EU Directives and UK regulations. The models meet EN 55011-B, EN 55032-B radiated and conducted emissions and comply with the EN 60601-1-2:2015 (Edition 4) and EN 61000-4 immunity standards.
More information on the MU4 series can be obtained from the TDK-Lambda Americas website at https://www.us.lambda.tdk.com.
Main applications
Medical, dental, broadcast, professional audio, industrial, test and measurement equipment requiring a low 41mm profile and very low acoustic noise
Main features and benefits
Extremely low audible noise fan
BF-ready medical isolation (MOPP)
1U (41mm) high
Optional PMBus™ communication
Seven-year warranty
About TDK Corporation
TDK Corporation is a world leader in electronic solutions for the smart society based in Tokyo, Japan. Built on a foundation of material sciences mastery, TDK welcomes societal transformation by resolutely remaining at the forefront of technological evolution and deliberately "Attracting Tomorrow." It was established in 1935 to commercialize ferrite, a key material in electronic and magnetic products. TDK's comprehensive, innovation-driven portfolio features passive components such as ceramic, aluminum electrolytic and film capacitors, as well as magnetics, high-frequency, and piezo and protection devices. The product spectrum also includes sensors and sensor systems such as temperature and pressure, magnetic, and MEMS sensors. In addition, TDK provides power supplies and energy devices, magnetic heads and more. These products are marketed under the product brands TDK, EPCOS, InvenSense, Micronas, Tronics and TDK-Lambda. TDK focuses on demanding markets in automotive, industrial and consumer electronics, and information and communication technology. The company has a network of design and manufacturing locations and sales offices in Asia, Europe, and in North and South America. In fiscal 2022, TDK posted total sales of USD 15.6 billion and employed about 117,000 people worldwide.
About TDK-Lambda Corporation
TDK-Lambda Corporation is a trusted, innovative leader and global supplier of highly reliable power conversion products for industrial and medical equipment worldwide.
TDK-Lambda Corporation is aligned for fast responses to any customer need with R&D, manufacturing, sales and service locations in five key geographic regions, namely Japan, EMEA, Americas, China and ASEAN.
For more details, please pay a visit to: www.jp.lambda.tdk.com/en/
Contacts For Regional Media:
Tom Tillman
TDK-Lambda Americas
+1-619-575 4400
[email protected]