New 10GBASE-T MagJack ICM Series Used as Power Source Equipment or Powered Device
Press Release Summary: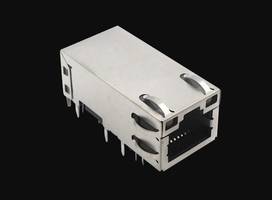 Transmits or receive 0 to 60 W of power per port over all 4 pairs within the Ethernet cable
Compatible with all 10GBASE-T PHYs, including current-mode and voltage-mode PHYs
Ideal for 5G cellular and wireless access point applications
---
Original Press Release:
Bel Magnetic Solutions Introduces 10GBASE-T Single Port 60W PoE MagJack® ICMs
San Jose, CA [October 13, 2020] Bel Magnetic Solutions, a Bel group company (NASDAQ: BELFA and BELFB), and a global leader in the design and manufacturing of MagJack® Integrated Connector Modules (ICM), introduces 10GBASE-T single port 60W, 4-pair PoE (Power over Ethernet) MagJack® ICMs that are designed for those looking to upgrade their product performance for maximum speed at 60W of power over standard Ethernet cable.
The 60W PoE specification doubles the amount of power products can handle over existing applications while also increasing their speed by ten times. The 10GBASE-T MagJack® ICM series can transmit or receive 0 to 60W of power per port over all 4 pairs within the Ethernet cable while maintaining the bandwidth of the NBASE-T compliant 10Gigabit Ethernet signals. These ICMs can be used as either a PSE (Power Source Equipment) or a PD (Powered Device) and are compatible with all major 10GBASE-T PHYs, including the latest current-mode and voltage-mode PHYs. The 10GBASE-T 60W ICMs are backward compatible to existing Ethernet networks and to slower speeds and lower powers and use industry standard footprints and pin-outs. These 60W ICMs are ideal for next generation 5G cellular and Wireless Access Point applications and can be used on next general PoE products where 30W of power is not sufficient.
Common part numbers:
G27-111T-118
G27-122T-015
G27-122T-066A
10GBASE-T Single Port 60W PoE MagJack® ICMs are in stock with Arrow, Digi-Key, Mouser, and Newark. For more detailed product information, download the datasheet. For technical inquiries please email techhelp@belf.com or call +1 (858) 842-1970.
About Bel
Bel (www.belfuse.com) designs, manufactures and markets a broad array of products that power, protect and connect electronic circuits. These products are primarily used in the networking, telecommunications, computing, military, aerospace, transportation and broadcasting industries. Bel's product groups include Magnetic Solutions (integrated connector modules, power transformers, power inductors and discrete components), Power Solutions and Protection (front-end, board-mount and industrial power products, module products and circuit protection), and Connectivity Solutions (expanded beam fiber optic, copper-based, RF and RJ connectors and cable assemblies). The Company operates facilities around the world.
Media Contact:
Audre Schneider
audre.schneider@eu.cinch.com
More from HVAC