New 1.5-Ton Heat Pump Delivers Powerful Heating, Cooling on 115-Volt Power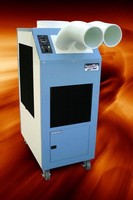 Torrance, Calif., October 2008 - A new 1.5-ton portable heat pump with 4-5 times greater heating capacity than 115-volt electric heaters is now available from Atlas Sales & Rentals, Inc. Manufactured by NorthWind, Inc., the new "MACH 1811" 1.5-ton heat pump is rated at 21,000+ BTU heating capacity and approximately 17,000 BTU cooling capacity - the most powerful combination available with standard 115-volt plug-in power.

Compact in design, the MACH 1811 uses a highly efficient, true heat pump and a refrigeration system with large coils that deliver high performance heating and cooling. An exclusive blower and motor ensure smooth, vibration-free operation at all settings. Unlike space heaters with glowing coils, it delivers ample heat at temperatures below the combustion point, for enhanced safety and comfort. It is also the only unit of its type to clean the air with an electrostatic filter that captures dust and other particulates to protect equipment and furnishings.

For ease of use, the portable unit features electromechanical controls in place of complicated electronics: The user need only roll in the unit, plug it in and turn the dial to the desired temperature setting. A remote thermostat is available for use where tight temperature tolerances are needed. Another unique feature is an advanced condensate removal system that allows the user to choose between collecting condensate in a tank or pumping it out: Both capabilities are built into the unit.

The MACH 1811 heat pump is available from Atlas for rental or purchase and is suitable for primary, supplemental or emergency heating and cooling. Applications include offices, industrial plants, nursing homes and multi-story buildings that need supplemental heating to accommodate nighttime and weekend temperature setbacks, seasonal changes, etc.

The MACH 1811 heat pump offers heating from 50°F and higher, high ambient cooling to 115°F and low ambient cooling to 55°F.

A leader in the portable cooling market since 1979, Atlas Sales & Rentals is a GSA Certified MAS Contractor with offices and affiliates nationwide. For further information, contact Atlas Sales & Rentals, Inc., 20410 Gramercy Place, Torrance, CA 90501, Torrance, CA 90501; phone 800-972-6600; e-mail info@atlassales.com; web www.atlassales.com.

Direct link www.atlassales.com/heatpumps_specs_mach1811.html.

More from Software