DC to DC Power Supplies (Converters)
New 0RQB-C2Q12LG Brick DC/DC Converter Uses Synchronous Rectification
Press Release Summary: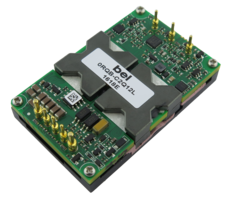 Bel's 0RQB-C2Q12LG Isolated Quarter Brick DC/DC Converter is suitable for railway and bus travel applications. Unit accepts inputs in the range of 9-36 V and delivers 156 W of 12 V regulated output power. The converter meets EN51055 and UL/CSA60950 standards. 0RQB-C2Q12LG converter is designed to provide infotainment experience in bus travel via Wi-Fi connection, real time information, email, social media, film and games.
---
Original Press Release:
Bel Power Solutions Announces 0RQB-C2Q12LG 156 W Isolated Qtr. Brick DC/DC Converter for Passenger Wi-Fi
Compact Qtr. Brick Power Supply is Designed for Next-Generation Transportation Needs at 9-36 Vdc Input, 12 Vdc Output and 13 A
Santa Clara, CA [May 8, 2018] Bel Power Solutions and Protection, a Bel group company (NASDAQ: BELFA and BELFB) and premier global manufacturer of power management devices, announces the 0RQB-C2Q12LG, an industry standard footprint quarter brick DC/DC converter equipped to run from a railway and bus datacom-friendly 9-36 V input range, which produces 156 W of 12 V regulated output power.
Power supplies designed for the next generation of railway and bus travel need to be robust and reliable. Today's transportation operators increasingly need to offer passengers an infotainment experience via a high-performance Wi-Fi connection, including real time information, email, social media, film and games. The 0RQB-C2Q12LG module has been designed for this application and its wide power range covers the 24 V and 12 V battery. The DC/DC converter switch is at a fixed frequency and uses synchronous rectification to achieve an optimum thermal performance and high conversion efficiency. The Bel Power module is European standard EN51055 system compliant and is also UL/CSA60950-1 2nd edition +A2 approved.
The 0RQB-C2Q12LG is available from Digi-Key, Mouser and Arrow. For more detailed information, visit the 0RQB-C2Q12LG product page here or download the datasheet. For technical inquiries, send an eMail to Tech.Support@psbel.com, call 866-513-2839 for North America and +49 6172 95520 for EMEA or visit belfuse.com/power-solutions.
About Bel
Bel (www.belfuse.com) designs, manufactures and markets a broad array of products that power, protect and connect electronic circuits. These products are primarily used in the networking, telecommunications, computing, military and aerospace, transportation and broadcasting industries. Bel's product groups include Magnetic Solutions (integrated connector modules, power transformers, power inductors and discrete components), Power Solutions and Protection (front-end, boardmount and industrial power products, module products and circuit protection) and Connectivity Solutions (expanded beam fiber optic, copper-based, RF and RJ connectors and cable assemblies). The Company operates facilities around the world.
Media Contact:
Susan Rawlish
susan.rawlish@belf.com 
More from Electrical Equipment & Systems