New 0ADHC Series Fuses are Designed for Protecting Digital and Analog Multimeters
Press Release Summary: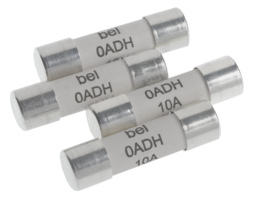 The 0ADHC Series Fuses are offered in 10 x 38 mm package with silver-plated copper end caps. The units are RoHS compliant, halogen free and lead free and are rated to 1000VAC/VDC with a 30 kA interrupting rated. The Fuses are suitable for use in multimeter environments that require circuit protection.
---
Original Press Release:
Bel Fuse-Circuit Protection Announces New 0ADHC Series Fuses for DMI Applications
Fast Acting Fuse Series Has Been Designed Specifically to Protect Both Digital and Analog Multimeters
Jersey City, NJ [July 19, 2018] Bel Fuse-Circuit Protection, a Bel group company (NASDAQ: BELFA and BELFB) and premier global manufacturer of fuses, announces their latest fast acting, high breaking capacity fuse series, the 0ADHC, which is a ceramic tube fuse in a compact 10x38 mm package, designed specifically to protect both digital and analog multimeters.
The 0ADHC Series is rated 1000VAC/VDC with a 30kA interrupting rating, has silverplated copper endcaps, and is also RoHS compliant, halogen free and lead free. Bel's 0ADHC Series fuses are ideal for multimeter environments which require circuit protection, such as high energy and high power environments.
Bel's fuses carry the cURus certification mark for both the U.S. and Canada. The 0ADH Series fuses are in stock with Digi-Key, Mouser and Arrow in up to 1,000 pieces for all ratings and types. Product samples also available upon request. Detailed information on the 0ADH Series can be found here and the datasheet can be found here. For more information, visit belfuse.com/circuit-protection.
For technical inquiries, send an eMail to techhelp@belf.com, call +1 858 676 9650 for North America and +49 6172 95520 for EMEA or visit belfuse.com/circuit-protection.
About Bel
Bel (www.belfuse.com) designs, manufactures and markets a broad array of products that power, protect and connect electronic circuits. These products are primarily used in the networking, telecommunications, computing, military and aerospace, transportation and broadcasting industries. Bel's product groups include Magnetic Solutions (integrated connector modules, power transformers, power inductors and discrete components), Power Solutions and Protection (front-end, boardmount and industrial power products, module products and circuit protection) and Connectivity Solutions (expanded beam fiber optic, copper-based, RF and RJ connectors and cable assemblies). The Company operates facilities around the world.
Media Contact:
Susan Rawlish
susan.rawlish@belf.com
More from Electrical Equipment & Systems