Netzer DS-25 Encoders tolerant to temperature and moisture.
Press Release Summary: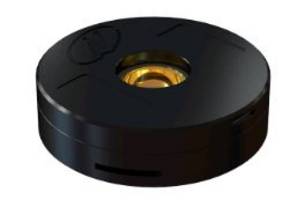 Offering 17 bit resolution, Netzer DS-25 Encoders weighs 4 grams. Providing tolerance to shock, unit offers hollow floating shaft. Working with EMI, RFI and magnetic fields, device provides less than 0.025° accuracy. Including analog Sin/Cos, Digital SSi, BiSS-C output options, high precision encoder comes with 7mm profile. With no bearing or other contact, devices are lightweight miniature absolute rotary encoders.
---
Original Press Release:
Introducing the Netzer DS-25 17 bit resolution Absolute Encoder
The DS-25 is a member of the DS series of Electric Encoders, based on Netzer Precision proprietary technology. These encoders offer many advantages, some unparalleled:
• 17 bit resolution
• < 0.025° accuracy
• Analog Sin/Cos,Digital SSi,BiSS-C output options
• Lightweight miniature absolute rotary encoder
• Hollow floating shaft
• No bearing or other contact
• High precision
• High tolerance to temperature, shock, moisture
• EMI, RFI and magnetic fields
• Total weight of 4gr
• Low profile of 7 mm
CLICK HERE to view more information on the DS-25 Absolute Encoder from Netzer Precision. For more information, please contact:
EDITORIAL CONTACT:
Warren Osak
Toll Free Phone: 877-737-8698
Toll Free Fax: 877-737-8699
Related