Networked Timeclocks support RFID, AutoID technologies.
Press Release Summary: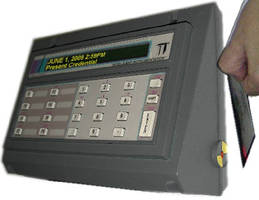 LANpoint TIME computers support iCLASS 13.56 MHz RFID proximity reader option in addition to other technologies: IR barcode, visible red barcode, magnetic stripe, and HID 125 kHz RFID. Supplied in NEMA 12 housings, WiFi Ethernet IEEE802.11b/g-enabled solutions also support various combinations of readers and keyboard-only/without AutoID reader. Features include onboard non-volatile storage, numeric or QWERTY industrial keyboard, backlit LCD, as well as various I/O and DIO.
---
Original Press Release:

Time and Attendance Timeclocks Now Available with Choice of RFID Technologies



June 24, 2009, Tucson, Arizona. Intelligent Instrumentation announces the release of a new RFID proximity reader on their LANpoint TIME timeclock computers. The LANpoint TIME networked timeclocks now include the iCLASS 13.56MHz radio frequency identification proximity reader option. Integral autoID reader options now include infrared barcode, visible red barcode, magnetic stripe, HID 125kHz RFID, HID 13.56MHz iCLASS RFID, combinations of readers, and keyboard-only/without AutoID reader.

The new autoID choice expands the employee badge options of LANpoint timeclock users. The iCLASS reader can read much more data than the 125kHz RFID reader, at a much faster rate. iCLASS technology provides versatile interoperability and supports multiple applications such as biometric authentication, cashless vending and PC log on security. iCLASS smart cards and readers make time-and-attendance and access control more powerful, more versatile, and offers enhanced security through encryption and mutual authentication.

These rugged WiFi Ethernet IEEE802.11b/g LANpoint TIME timeclocks have no moving parts that require maintenance and wear out. Their compact NEMA 12 (IP54) housings keep out water and dust, allowing for installation in environmentally harsh conditions. They have onboard non-volatile storage expandable to 1GB or more, and include the industrial features, connectivity and scalability demanded by employees and IT professionals alike. Web-enabled system administration tools, a wide range of software programmability, and a full selection of installation, mounting and AutoID add-on accessories and options make for unparalleled ease of implementation and system management.

LANpoint TIME timeclocks include the Windows CE Operating system, featuring the familiar Windows WIN32 API environment that allows developers the convenience of using their existing desktop development skills with Microsoft's development tools for creating custom managed-code solutions in Visual Basic.NET, Visual C#.NET and eMbedded Visual C++. Development tools that can be utilized include Visual Studio.NET 2003, Visual Studio.NET 2005, and Visual Studio.NET 2008.

Don't want to develop your own timeclock application software? Contact Intelligent Instrumentation for a list of responsive, qualified partners that specialize in time and attendance, or any other application for that matter.

Standard networking and utility software includes TCP/IP and SNMP. Intelligent Instrumentation's WebDevice Web-server application provides remote network management for easy support. In addition, all popular terminal emulation interfaces are available - VT, HP, IBM5250, and IBM3270.

Standard features include integral numeric or QWERTY industrial keyboards with large keys yet a small installation footprint, high quality backlit LCD displays, and up to three RS-232 ports that can be used for standard serial I/O such as barcode scanners, scales, calipers, and printers. The PS/2 connector allows use of wedge readers as well as external keyboards. There is even the thoughtful addition of a connector providing 3.3V, 5V and 12V power for 2D laser scanners and other accessories. A full line of accessories and options is available, from AutoID devices to battery backup packs and wiring installation kits. Standard and optional digital I/O provides eight opto-isolated digital inputs and eight digital outputs. Intelligent Instrumentation provides everything necessary to get the LANpoint TIME timeclocks installed and running quickly.

The LANpoint TIME timeclocks are available now. Volume discounts are available to qualified accounts.

Intelligent Instrumentation's FactoryView is a family of USA designed and manufactured products interfacing the machines, processes, and operations of an enterprise to data management systems. The company manufactures a complete line of industrial networked data collection computers, automated time and attendance solutions, and microterminals for data collection and operator interface/control panel applications. Intelligent Instrumentation also manufactures data acquisition, test, measurement and control systems for desktop and portable PCs, including distributed networked I/O DAQ systems. The company has a worldwide network of sales and service offices.

For additional information, contact Intelligent Instrumentation, Inc.; 3000 E. Valencia Road, Suite 100; Tucson, Arizona 85706. In the USA, telephone (800) 685-9911 (Sales and Information) or fax (520) 573-0522. Outside the USA, telephone (520) 573-0887 or fax (520) 573-0522. Visit their web site at: http//lanpoint.com;
email: sales@lanpoint.com.

iCLASS is a registered trademark of HID Global in the U.S. and/or other countries. LANpoint TIME and FactoryView are trademarks of Intelligent Instrumentation. All other trademarks are the property of their respective companies.

More from Laboratory and Research Supplies and Equipment