Network Surveillance System is designed for SOHO and SMB.
Press Release Summary: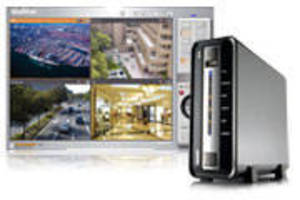 Linux-based, NVR-104 supports 4-channel M-JPEG/ MPEG-4 recording and up to 120-channel of real-time monitoring with multi-server monitoring. Device has less than 18 W of power consumption and supports up to 2 Tb storage capacity with built-in hard drive and optional external SATA hard drive. Compatible with IP-based security cameras, it can record schedule, alarm, alarm recording schedule, motion-detection, pre-alarm, and post-alarm.
---
Original Press Release:

QNAP Launches NVR-104 Network Surveillance System



Taipei, Taiwan, March 2009 - QNAP Security, the leading network surveillance and storage solutions provider, today unveiled the NVR-104, the most affordable and reliable network surveillance system for SOHO and SMB. The NVR-104 supports high quality 4-channel M-JPEG/ MPEG-4 recording and up to 120-channel real-time monitoring with the innovative multi-server monitoring feature. It is a Linux-based, low power consumption, and high performance network video recorder with abundant enterprise-grade monitoring, recording, and playback features.

The NVR-104 supports up to 2TB storage capacity with the built-in hard drive and an optional external SATA hard drive. It can be adopted in different surveillance environment, e.g. home, office, campus, community, traffic, shopping center, and chain store. "The NVR-104 is an energy-saving solution that its power consumption is less than 18W while PC-base solution consumes about 350W. In other words, it saves up to 94.8% of the power consumed by traditional PC-based surveillance systems and is ideal choice for 24x7 monitoring and recording," says Andrew Yu, Product Manager from QNAP Security.

The NVR-104 is highly compatible with the IP-based security cameras from AXIS, ACTi, Arecont, Canon, D-Link, EDIMAX, ELMO, EtroVision, GANZ, iPUX, IQeye, LevelOne, MOBOTIX, Panasonic BB/ BL/ i-Pro, SANYO, SONY, TOSHIBA, TRENDnet, VIVOTEK, and Y-CAM, etc. As a standalone surveillance system, the NVR-104 supports complete monitoring, recording, and playback. The recording features include schedule recording, alarm recording, alarm recording schedule, motion-detection recording, pre-alarm, and post-alarm recordings, etc. Up to 120 channels from different NVR servers can be added for real-time monitoring. Different display modes, smart PTZ camera control, digital zoom, real-time snapshot, E-map, on-screen alarm notification, etc. are provided. The monitoring, playback, and system configurations can all be maintained by the IE browser without hassles.

More information about the NVR-104 network surveillance system is available on www.qnapsecurity.com/pro_detail_feature.asp?p_id=114.

Availability

QNAP NVR-104 network surveillance system can be ordered from the QNAP's distributors and resellers. To find a QNAP distributor nearest to your location, please visit www.qnapsecurity.com. If you are interested in becoming one of our distributors or resellers, please contact us using the form: www.qnapsecurity.com/SalesInquiry.asp.

About QNAP Security

QNAP Security is a professional provider of network video recorder (NVR) surveillance solutions that integrate advanced surveillance and storage technologies. With the solid expertise in Linux, video encoding, and decoding technologies, QNAP Security has successfully developed Linux-embedded NVR surveillance solutions with comprehensive monitoring, recording, and playback functions. The Linux-embedded platform of QNAP Security's products ensures higher system stability with less virus attacks or hacking than Windows-based monitoring solutions.

QNAP Security

TEL: +886-2-8698-2000

FAX: +886-2-8698-2270

URL: www.qnapsecurity.com

Related