Network Security Appliance optimizes average LAN throughput.
Press Release Summary: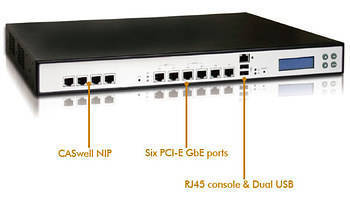 Supporting Intel's second generation Core(TM) i7/i5/i3 processor with Intel H61 PCH and DMI 5GT/s chipset, 1U rackmount Model CAR-3030 is scalable to Intel's third generation Core i7/i5/i3 processor. Unit features dual-channel 1066/1333 MHz DDR3 memory modules up to 16 GB, PCI-E x8 expansion, LGA-1155 socket, and up to 10 Gigabit Ethernet ports, plus optional dual 10G SFP+LAN module, 80 Plus power supply, and 6 onboard Ethernet ports with 2 bypass segments.
---
Original Press Release:

Portwell's New 1U Rackmount Network Appliance Increases Average LAN Throughput by 80 Percent



FREMONT, CALIF. - CAR-3030, the latest offering from American Portwell Technology, Inc. (http://www.portwell.com), is a 1U rackmount network security appliance that supports Intel's second generation Core(TM) i7/i5/i3 processor (formerly codenamed Sandy Bridge) with Intel H61 PCH and DMI 5GT/s chipset, and is scalable to Intel's latest third generation Core i7/i5/i3 processor (formerly codenamed Ivy Bridge). The new CAR-3030 network security appliance also features dual-channel 1066/1333 MHz DDR3 memory modules up to 16GB, PCI-E x8 expansion (with up to two Generation 2.0 bypass segments), LGA-1155 socket, up to 10 Gigabit Ethernet ports, optional dual 10G SFP+LAN module, 80 Plus power supply and 6 onboard Ethernet ports with 2 bypass segments.

Design tests have shown that American Portwell's new CAR-3030 network security appliance is capable of increasing LAN throughput by an average of 80 percent when compared with previous generation platforms. This makes it the ideal solution for Intrusion Prevention Systems (IPS), Intrusion Detection Systems (IDS), Firewall, VPN, Load Balancing, WAN Optimization, Unified Threat Management (UTM), IP Router, Web Security Gateways and as an Application Delivery Controller (ADC).

Cost Effective and Versatile Options

According to Oliver Chen, American Portwell Technology's product marketing manager, one of the many benefits CAR-3030 provides to customers is the versatile Ethernet I/O options (including GbE Fiber, Copper, 10G Fiber and Copper) that make this appliance so cost-effective.

"We designed CAR-3030 to be a mainstream product with a difference," Chen states. "It's compact and lightweight. The 11.5½ deep 1U chassis makes two-post rackmount a snap. Onboard PCI-E Gen 2 literally doubles the bandwidth compared with Gen 1 bus bandwidth. There is one LAN module slot for 4-port copper, fiber or dual-port 10G SFP+ options plus an optional bypass segment for High Availability (HA) deployment," Chen confirms. "In addition," Chen adds, "CAR-3030 supports a range of CPUs and a wide range of available software. Plus, it generates the high computing power associated with the latest Intel Sandy Bridge and Ivy Bridge processor technology."

Long Product Lifecycle Support

"Portwell always designs and develops its products with one eye on the bottom line and the other eye on making things as future-proof as possible," announces Frank Shen, American Portwell's vice president of product marketing. "And as always," Shen continues, "our customers not only benefit from the most up-to-date technology and features, but they also gain peace of mind from the long life cycle support (7+ years) inherent with every Portwell product."

Product details: www.portwell.com/products/detail.asp?CUSTCHAR1=CAR-3030

About American Portwell

American Portwell Technology, Inc., is a world-leading innovator in the Network Security market and a Premier member of the Intel® Intelligent Systems Alliance. American Portwell Technology designs, manufactures and markets a complete range of communications appliances, embedded computer boards and systems and rackmount systems for both OEMs and ODMs. American Portwell is an ISO 9001:2000, ISO 13485:2003 and ISO 14001:2004 certified company. The company is located in Fremont, California. For more information about American Portwell's extensive turnkey and private-label branding solutions, call 1-877-APT-8899, email info@portwell.com or visit us at www.portwell.com.

All products and company names referred to herein may be trademarks or registered trademarks of their respective companies or mark holders.

Product Contact:

Oliver Chen

Product Marketing Manager

American Portwell Technology, Inc.

510-403-3316

oliverc@portwell.com

Media Contact:

Susan Wei

Marketing Executive

American Portwell Technology, Inc.

510-403-3354

susanw@portwell.com

More from Electrical Equipment & Systems