Network Security Appliance offers bulk encryption/decryption.
Press Release Summary: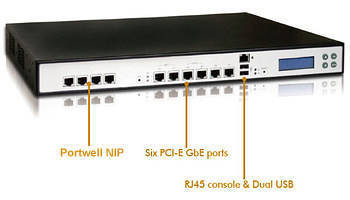 Based on Intel Crystal Forest-Gladden platform of Intel BGA1284 type processors and Intel Communications Chipset 89xx series, 1U rackmount Model CAR-3020 includes built-in Intel QuickAssist Technology and support for both ECC DDR3 and DDR3 memory up to 16 GB. Appliance also supports 1 PCIe x8 or 2 PCIe x4 expansion slots, character/graphical display module, and 14 Ethernet ports. Unit is suited for DNS firewall, VPN, IDS/IPS, anti-spam, anti-virus, UTM, and network management applications.
---
Original Press Release:

Portwell's New 1U Rackmount Network Appliance Combines Entry-level Cost with Server-Grade Performance



FREMONT, CALIF. —CAR-3020, the latest offering from American Portwell Technology, Inc. (http://www.portwell.com), is a compact 1U rackmount network security appliance that provides support for a variety of network interface cards, built-in security functions—including bulk encryption/decryption—high flexibility and high performance. The engine that drives the new CAR-3020 is based on the Intel Crystal Forest-Gladden platform of the Intel BGA1284 type processors from Celeron® to Xeon® (codenamed Sandy Bridge-Gladden) and Intel Communications Chipset 89xx series (codenamed Cave Creek).



Other features of American Portwell's new CAR-3020 1U rackmount network security appliance include built-in Intel QuickAssist Technology (QAT) via the Cave Creek Chipset; and support for both ECC DDR3 and DDR3 memory up to 16GB; two Gen. 2.0 bypass segments; and x4 DMI. Flexibility options include support for one PCIe x8 or two PCIe x4 expansion slots; character/graphical display module; and up to 14 Ethernet ports. The CAR-3020's network interface reserves one extension for Portwell NIP and includes 2, 4, 8 Ethernet ports for fiber or copper connections.



This combination of performance, flexibility and security makes American Portwell's new CAR-3020 the ideal solution for WAN optimization, DNS firewall, VPN, IDS/IPS, anti-spam, anti-virus and UTM, plus network management applications such as routers, RAS gateways, QoS, server load-balancer, wireless LAN controllers, medical DICOM and PACS, and industrial automation control via Ethernet TCP/IP.



Entry Platform with Server-Grade Chipset  

According to Oliver Chen, American Portwell Technology's product marketing manager, the inclusion of Intel QuickAssist Technology, and the combination of Sandy Bridge and Cave Creek technologies makes CAR-3020 the perfect 1U rackmount network security appliance for customers seeking a platform with a built-in security engine to offload CPU loading. "Using Cave Creek, Intel QuickAssist Technology provides up to 20Gps of Bulk Encrypt/Decrypt functionality," Chen explains. "Pair this with the Xeon platform and customers benefit from server-grade performance at an entry-level price."



Long Product Lifecycle Support  

"Portwell always designs and develops its products with one eye on the bottom line and the other eye on making things as future-proof as possible," confirms Frank Shen, American Portwell's vice president of product marketing. "And as always," Shen continues, "our customers not only benefit from the most up-to-date technology and features, but they also gain peace of mind from the long life cycle support (7+ years) inherent with every Portwell product."



Product details: www.portwell.com/products/detail.asp?CUSTCHAR1=CAR-3020



About American Portwell  

American Portwell Technology, Inc., is a world-leading innovator in the Network Security market and a Premier member of the Intel® Intelligent Systems Alliance. American Portwell Technology designs, manufactures and markets a complete range of communications appliances, embedded computer boards and systems and rackmount systems for both OEMs and ODMs. American Portwell is an ISO 9001:2008, ISO 13485:2003 and ISO 14001:2004 certified company. The company is located in Fremont, California. For more information about American Portwell's extensive turnkey solutions and private-label branding service, call 1-877-APT-8899, email info@portwell.com or visit us at www.portwell.com.



All products and company names referred to herein may be trademarks or registered trademarks of their respective companies or mark holders.



Product Contact:

Oliver Chen

Product Marketing Manager

American Portwell Technology, Inc.

510-403-3316

oliverc@portwell.com



Media Contact:

Susan Wei

Marketing Executive

American Portwell Technology, Inc.

510-403-3354

susanw@portwell.com

More from Electrical Equipment & Systems