Network Packet Broker delivers end-to-end traffic visibility.
Press Release Summary: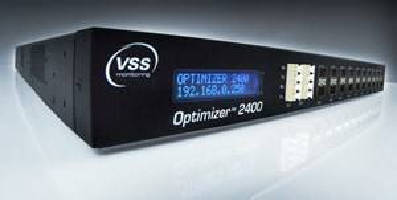 Combining VSS vBroker™ software with hardware platform, Optimizer 2400 supports aggregation, full Layer 2-7 packet filtering, and dynamic load balancing for optimizing network monitoring, management, and security tools. Unit also supports VSS vMesh™ architecture, which enables organizations to scale visibility plane enterprise-wide with resilient mesh topology of NPBs. Providing 240 Gbps non-blocking throughput, product supports line-rate, any-to-any 1/10 Gbps mapping and forwarding on 24 ports.
---
Original Press Release:

VSS Monitoring Optimizer 2400 Redefines the Economics of Visibility Plane Systems for Enterprise Networks



Provides Comprehensive Network Packet Broker Functionality at a Matrix Switch Price Point



NEW YORK -- ONUG Fall 2014 -- VSS Monitoring, a leading provider of network packet brokers (NPBs), today announced the Optimizer 2400 as the first system in a new series of more open and cost-effective network visibility systems. The Optimizer 2400 NPB combines the VSS vBroker(TM) system software with a hardware platform at a price/performance point more suitable for enterprise network deployments, which changes the economics of end-to-end traffic visibility while preserving the beneficial packet broker operating model. [Note to media: VSS is a Demonstrator at ONUG Fall 2014 where the company will introduce its new product to the ONUG IT business users.



The U.S. list price of $19,995 makes the Optimizer 2400 the industry's most cost-effective network packet broker system to support aggregation, full Layer 2-7 packet filtering and dynamic load-balancing for optimizing the effectiveness of networking monitoring, management and security tools.



"Packet-based visibility has become a critical aspect of network and security monitoring strategy for organizations of all sizes," said Jim Frey, VP of Research, Enterprise Management Associates. "What has been missing are viable choices that bring to bear the most valuable capabilities of an enterprise-class NPB, such as traffic filtering and load-balancing, in a solution that can fit the budgetary and flexibility needs of midsized organizations." The Optimizer 2400 design has been influenced by direct customer input, as well as by findings from EMA research into traffic visibility needs in enterprise organizations. [EMA's research results are reported in Network Visibility Controllers: Best Practices for Mainstreaming Monitoring Fabrics available at www.vssmonitoring.com/resources/pdf/EMA-NVC-Research-Report.pdf



In addition to supporting Layer 2-7 packet filtering, session-based flow-aware load-balancing and key NPB features needed in network security, analytics and monitoring applications, the Optimizer 2400 also supports the VSS vMesh(TM) architecture. vMesh enables organizations to scale the visibility plane enterprise-wide (LAN and WAN) with a resilient mesh topology of NPBs. vMesh support extends across the entire VSS product line, which also includes the vBroker, vProtector, Distributed and Finder series.



The Optimizer 2400 can be managed using a CLI or the VSS Management Center, a web GUI-based console used to manage all other VSS systems. The system also supports management via an open XML API. The product provides a non-blocking throughput of 240 Gbps to support line-rate, any-to-any 1/10 Gbps mapping and forwarding on its 24 ports, and offers a mix of integrated optics and SFP+ interfaces in a 1U form factor with redundant power supplies. This positions the Optimizer 2400 as an entry-level NPB at a port density and price/performance point below the VSS vBroker series, which is the company's flagship enterprise and carrier-class offering. Advanced NPBs from VSS Monitoring offer 1/10 Gbps, 40 Gbps and 100 Gbps links in a range of models that support up to 600 ports and 6 Tbps of throughput in a single system.



"The VSS network packet brokers lead the industry in capabilities, but their advanced feature set often placed these powerful systems beyond the needs and budgets of some deployments," says Liu Zenzang, Sr. Sales Manager of Major Accounts at HCF, a global systems integrator headquartered in China. "With the Optimizer 2400, VSS now offers the capabilities of a packet broker at the price point of a basic matrix switch, putting a full-fledged visibility plane within reach of virtually any organization."



The breakthrough pricing of the Optimizer 2400 solves a major problem in most enterprise networks: the lack of end-to-end visibility owing to the significant investment needed to monitor all links. By redefining the economics of enterprise-wide visibility planes and publishing an open XML API for value-added development, the Optimizer 2400 will address a broad range of needs with VSS's OEM and channel partners.



"VSS understands the desire enterprises and carriers alike have to better manage costs even as networks grow. And we're helping achieve that goal by leveraging our expertise in lean manufacturing and software overlays to deliver a software-defined networking system for the visibility plane," says Andrew R. Harding, vice president of products at VSS. "The industry also understands that the migration to more open networking needs to occur in steps. So network operators want a cost-effective migration path to SDN, not a costly new operating model that rejects hardware acceleration where it's still required to optimize price/performance. The Optimizer 2400 is one such step, and we believe a fairly significant one because it establishes a new standard for making an enterprise-wide visibility plane even more cost-effective."



Pricing & Availability

The Optimizer 2400 is available now with a U.S. list price of $19,995.00, or on a five-year subscription with monthly pricing beginning at $400.00.



About VSS Monitoring

VSS Monitoring is a world leader in network packet brokers (NPBs), providing a visionary, systems approach for optimizing and scaling the connectivity between network switching and the universe of network monitoring and network security tools. VSS Monitoring NPBs improve tool usage and efficiency, simplify IT operations, and greatly enhance ROI from tools. For more information, visit www.vssmonitoring.com.



VSS Monitoring is an operating company of Danaher Corporation (NYSE:DHR), and vBroker, vSpool and vNetConnect are trademarks of VSS Monitoring. All rights reserved.

More from Computer Hardware & Peripherals