Network Motion Controller facilitates task programming.
Press Release Summary: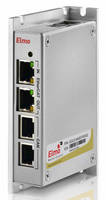 Gold Maestro with firmware v1.1.2.0 provides features that facilitate programming of complex motion tasks and accelerate their implementation. Delta Robot Support includes Linear, Circle, Polynomial, Table Spline, and Table PVT. After operator defines Delta robot part lengths, machine is ready to run. Additional features enable position correction of single and multi-axis positions in real-time as based on correction data as well as superimposed management of error correction.
---
Original Press Release:

Elmo Motion Control Adds Advanced Features to its Gold Maestro Motion Controller



Full Delta Robot Support, Enhanced Error Correction Support and Superimposed Motion are now an integrated part of the Gold Maestro Version 1.1.2.0.



Elmo Motion Control, a leading provider of advanced and cost-effective motion control solutions, announced today the firmware release for Gold Maestro Motion Controller Version 1.1.2.0, including a range of powerful new features that make complex motion tasks easier to program and faster to implement.



Elmo's Gold Maestro (G-MAS) is an advanced, fast, precise, user-friendly and cost-effective distributed networking motion controller that leads the market. According to Benjamin Spitzer, Product Manager, "The Elmo team has implemented a number of new and advanced features into the Gold Maestro that enhance the functionality of the updated version, maintaining G-MAS as the preferred networking motion controller across all industries."



The Gold Maestro now offers full Delta Robot Support, including Linear, Circle, Polynomial, Table Spline and Table PVT. Simply define the Delta robot part lengths, and the machine is ready to run.



Enhanced Error Correction Support is another new feature of the updated Gold Maestro Motion Controller, enabling position correction of both single and multi-axis positions in real time, based on correction data. Superimposed management of error correction is fully supported. In addition, the feature supports 1D, 2D and 3D error correction (http://www.elmomc.com/capabilities/7.GMAS Error Mapping Correction Support/1.GMAS 1D 2D 3D Error Correction Support/G-MAS-Error-Mapping-Correction-Support.htm#page=page-1).



The Gold Maestro enables Flying VisionTM (http://www.elmomc.com/news/flying-vision.htm) with Superimposed Motions (that is, adding another profiler on top of an ongoing motion in real time), significantly improving machine throughput. Flying VisionTM is used mainly when the exact end position of a motion is unknown and needs to change during the motion, without crossing the initial location. With this functionality, the User can change the target position without changing the current Function Block. Elmo's Flying VisionTM enables increased accuracy and motion stability, while reducing process time, with potentially improved speed of 30% or more.



With the Fast Reference to Drive Functionality, the Gold Maestro now supports a fast referencing capability to enable the G-MAS to send an additional position reference to a drive. The position reference can specify the actual or target positions for axes in the system, as well as a position along a Group axis path. This can be used for numerous purposes, including Additional Auxiliary Profiler to drive, Advanced Gain Scheduling, and Touch Probe.



To find out more about Elmo's new range of features, and for a complete description of the functionality of the Motion Controllers line, please visit Gold Maestro (http://www.elmomc.com/products/multi-axis-machine-motion-controller-g.htm) and Elmo's Motion Control Capabilities (http://www.elmomc.com/capabilities/elmo-capabilities-main.htm?headerbar=0) on the Elmo website.



About Elmo Motion Control

Elmo develops and markets cutting-edge servo drives and network motion controllers that deliver the complete solution for any motion-control application. Inspiring motion since 1988 and with millions of drives performing reliably in a wide variety of industries and military applications, Elmo boosts the success and profitability of our customers worldwide.



Elmo Motion Control Inc.

42 Technology Way

Nashua, NH 03060

U.S.A.

Phone: +1(603)821-9979

Fax: +1(603)821-9943

info-us@elmomc.com



Elmo Motion Control Ltd.

60 Amal St. P.O. Box 3078

Petach-Tikva 49516

Israel

Tamar Hartal

Phone: +972-3-929-2377

Fax: +972-3-929-2322

tamarh@elmomc.com

Powered by TCPDF (www.tcpdf.org)

More from Packaging Products & Equipment