Network Interface Controllers suit military applications.
Press Release Summary: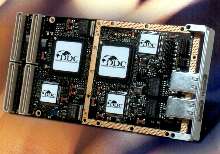 FibreAccess(TM) FC-75000 2 Gb/s fibre channel NICs feature dual redundant architecture with autonomous failover or dual independent channels, low memory to memory message latency, deterministic autonomous message scheduling, and built in avionics upper layer protocols on conduction-cooled PMC card. Units operate from -40 to +85°C and are offered with transformer-coupled, copper interface with front panel connection, PMC rear connection, or fiber optic interface.
---
Original Press Release:

FibreAccess(TM) for Military Applications


Dual Channel 2Gb/s Conduction Cooled PMC Fibre Channel NIC

Bohemia, New York (June 25, 2003) - Data Device Corporation (DDC) a leader in data networking technology for military applications announced today the introduction of its FibreAccess(TM) series of 2Gb/s Fibre Channel Network Interface Controllers. DDC has designed the FC-75000 Fibre Access NIC from the ground up to meet the demanding challenges of flight critical military applications and harsh military environments. Fibre Access NICs feature a dual redundant architecture with autonomous failover or dual independent channels, low memory to memory message latency, deterministic autonomous message scheduling, and built in avionics upper layer protocols on conduction cooled PMC card making it ideally suited for the most rigorous military applications. "Our focus throughout the entire product definition, design and development phases has been to provide a design that guarantees highly deterministic performance required by flight critical and mission critical applications" said Todd Decker, Marketing Manager at DDC for Data Networking Components. Features such as implicit login, priority message scheduling and support of avionics protocols found in ANSI Technical Report "Fibre Channel for Avionics Environments" (FC-AE) such as ASM and FC/AE-1553 make the Fibre Access technology especially well suited for military oriented applications. Fibre Access employs a flexible FPGA based architecture that allows DDC to tailor the design to meet the specific needs of applications and to support the multi-decade life cycles of military programs.

The FC-75000 series of conduction cooled Fibre Channel NICs operate over a wide -40 to +85 degrees C temperature range and is initially available with a transformer coupled copper interface with either front panel connection, PMC rear connection or a fiber optic interface. DDC supplies software drivers for VxWorks and plans to support other software operating systems later this year.

"DDC is paving a transition path from older and slower bus technologies to new high speed network technologies with its introduction of FC-AE-1553 protocol available in the Fibre
Access series of products" says Amir Massumi, Director of Marketing at DDC. "The FC-AE-1553 protocol is designed to allow re-usability of legacy system software, legacy buses and
existing avionics boxes that gave the solidly deterministic performance of MIL-STD-1553 and add the high data rates, low latency and enormous network size capability of Fibre Channel".

Data Device Corporation is an international leader in high-reliability data conversion interface components and subsystems for military, commercial, and industrial applications. Established in 1964 with the introduction of the first synchro-to-digital module, DDC has design and manufacturing facilities in their Bohemia, New York headquarters and Cork, Ireland. For more information, contact Todd Decker at 631-567-5600 ext. 742:2, e-mail infocddc-web.com, or connect to www.ddc-web.com