Network Gateway connects CANopen, Ethernet, and fieldbus.
Press Release Summary: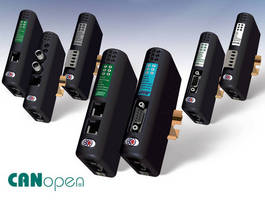 Supplied in DIN rail-mount plastic housing, CANopen X-gateway series connects CANopen networks with up to 10 other fieldbus and industrial Ethernet networks. Implementation is based on HMS NP30 MPU and is certified by CAN in Automation (CIA) for full conformance to CANopen DS 301 v4.0.2. On CANopen side, gateways function as masters, while on uplink network side they work as slaves. Operating from 24 V supply, series can integrate into any kind of industrial automation system.
---
Original Press Release:

CANopen X-gateway Family



The new Anybus X-gateway series connects CANopen networks with 10 other fieldbus and industrial Ethernet networks

At the SPS/IPC/Drives fair in Nuremberg / Germany, HMS Industrial Networks will release a major enhancement to the X-gateway family, releasing 10 completely new designed CANopen master (manager) gateways in small slim-line housing. The new powerful CANopen X-gateways allow any CANopen enabled device with slave functionality to communicate with almost any other fieldbus or industrial Ethernet network. The CANopen gateway series includes versions for all popular fieldbusses such as Profibus, DeviceNet, Modbus, ControlNet and for industrial Ethernet with Profinet, EtherNet/IP, EtherCAT and Modbus-TCP protocol. Typical applications are CANopen based networks which need to be integrated into higher functional fieldbus or industrial Ethernet networks. Target markets include machine building, transportation, infrastructure, medical and all types of energy distribution and control applications including renewable energies.

Embedded into a small plastic housing, the CANopen X-gateways are slim-lined devices for standard DIN rail mounting and 24 Volt power supply. Based on the proven Anybus communication modules, the CANopen X-gateways act as intelligent links between two industrial networks. On the CANopen side, they always function as a master (manager), while they work as slaves (servers) on the uplink network side. The implementation is based on HMS NP30 microprocessor and is certified by CAN in Automation (CIA) for full conformance to the CANopen DS 301 v4.0.2 standard.

For the configuration of the CANopen master interface, any standard CANopen configuration tool can be used. The uplink fieldbus or Ethernet slave interface is configured with a standard device description file (GSD / EDS) and the standard engineering tool of the PLC. No programming is required. The gateways transmit I/O data completely transparent between the two networks - I/O data from the uplink fieldbus / Ethernet network is mapped into CANopen PDOs and vice versa.

The gateways are easily integrated into any kind of industrial automation system, ensuring a seamless information flow between CANopen and 10 other fieldbus / Ethernet networks. The fact that Anybus X-gateways combine high reliability and flexibility make them indispensible connectivity tools for system integrators and plant operators within all industries.

With the addition of the new CANopen series, the Anybus X-gateway family consists of more than 200 individual gateways providing communications between almost any fieldbus or industrial Ethernet network. All versions work in a similar way, providing a flexible standard solution to connect two industrial networks.

HMS Industrial Networks is a leading independent supplier of embedded network technology for automation devices. HMS develops and manufactures solutions for interfacing automation devices to industrial networks. Development and manufacturing takes place at the head office in Halmstad, Sweden. Local sales and support is provided by the HMS branch offices in Chicago, Beijing, Birmingham, Karlsruhe, Milan, Mulhouse and Tokyo. HMS employs over 180 people and reported sales of 23 million in 2009. HMS is listed on the NASDAQ OMX Nordic Exchange in Stockholm in the category Small Cap, Information Technology with ISIN SE0002136242.

Press contact:
HMS Industrial Networks Inc
Sarah Hardman
900 W Jackson Blvd Suite 2W
Chicago IL 60607
Tel: (312) 829-0601
E-mail: sha@hms-networks.com
www.anybus.com

Readers contact:
HMS Industrial Networks Inc
Sales
900 W Jackson Blvd Suite 2W
Chicago IL 60607
Tel: (312) 829-0601
E-mail: us-sales@hms-networks.com
www.anybus.com

Related