Network-Based Control System meets upstream monitoring needs.
Press Release Summary: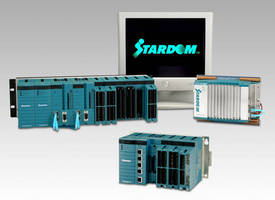 Used for monitoring and control of oil and gas fields, water supply facilities, and other installations, STARDOM™ ensures data transfer integrity between SCADA systems and PLCs. Core components include FCN autonomous controller and FCN-RTU low power controller. Support for dual connection to DNP3 clients enables same data to be sent to master and backup SCADA systems simultaneously. System can switch over to backup SCADA server for disaster recovery and uninterrupted monitoring/control.
---
Original Press Release:

Yokogawa Releases Enhanced Version of STARDOM(TM) Network-Based Control System



Upgrading of DNP3 SCADA protocol functionality for upstream oil & gas and other applications119YOK – Star dom



Yokogawa Electric Corporation has released an enhanced version of the STARDOM™ network-based control system. With this release, the integrity of the data transferred between supervisory control and data acquisition (SCADA) systems and programmable logic controllers (PLCs) is ensured in challenging upstream oil & gas and other applications.



Development background

The FCN autonomous controller and the FCN-RTU low power controller are core components of the STARDOM network-based control system, which is widely used in applications involving the monitoring and control of oil & gas fields, water supply facilities, and other installations that are often hundreds of kilometres apart. In such applications, the controllers installed at each site send data via a narrowband communications link to the SCADA system at a central control facility. To ensure that no data is lost, such systems generally employ DNP3, an open distributed network communications protocol. The STARDOM system has been enhanced to make better use of the functions supported by the DNP3 protocol.



Product features

With this enhancement, the FCN and FCN-RTU controllers now support a dual connection to DNP3 clients, enabling the same data to be sent to master and backup SCADA systems (the DNP3 clients) at the same time. When the same essential data is stored on master and backup SCADA servers in separate locations, the system can switch over to the backup SCADA server in the event of a disaster or some other eventuality that could cause the master SCADA server to go offline. This disaster recovery system ensures the uninterrupted monitoring and control of oil & gas fields, water supply facilities, and other types of infrastructure.



Takashi Nishijima, a Yokogawa Director and Senior Vice President of Yokogawa's Industrial Automation Platform Business Headquarters, says: "Dating back to the days when the company introduced its flagship CENTUM system, Yokogawa has continually been focused on maximising system reliability, and this is one of the core values of our VigilantPlant initiative. We have adopted the same policy with our SCADA systems and are able to prevent the loss of valuable data and guarantee total consistency - even when data is transmitted between customer facilities that may be hundreds of kilometres apart. Yokogawa will continue to enhance the reliability of the systems that its customers and society depend on."



About STARDOM

STARDOM is an open network control system consisting of components with control, operation, and monitoring functionality, and is highly acclaimed as it combines the reliability of a DCS with the versatility and economy of a PLC. The autonomous controllers at the core of STARDOM have the same control and monitoring functions found in a PLC as well as the information distribution functions of a PC. They are widely used as intelligent remote terminal units (RTU) in distributed applications such as natural gas and oil wells and pipelines. When used in combination, FCN and FCN-RTU autonomous controllers and Yokogawa's FAST/TOOLS SCADA software give increased flexibility in distributed applications.



Major target markets

• Widely distributed installations such as those used in oil & gas, water supply, and wastewater treatment applications

• Small- to medium-sized plants for the processing of oil, chemicals, iron & steel, nonferrous metals, pulp & paper, food, pharmaceuticals etc.

• Small- to medium-sized power plants that employ wind, steam, or water turbines



Applications

Monitoring, operation, control, data collection, and data storage for geographically distributed facilities



Further Details:  Louise Mungrue. Yokogawa UK Ltd. Solar House, Mercury Business Park, Wooburn Green, High Wycombe, Bucks. HP10 0HH Tel: 01628 535640

E-mail: louise.mungrue@uk.yokogawa.com http://www.yokogawa.com/uk



UK Press Contact:

Eileen Holmes-Ievers. In Press Public Relations Ltd. St John's Chapel, High Street, Lambourn, Berkshire. RG17 8XL.  Tel. 01488 674200 Mobile: 07774 968272 E-mail: eileen@inpress.co.uk www.inpress.co.uk

Twitter: http://www.twitter.com/InPressPR



About Yokogawa UK Ltd

Yokogawa UK Ltd., part of the global Yokogawa Group, is a supplier of enterprise technology solutions to the process, manufacturing and utility sectors. The company is a technology and market leader in instrumentation and control, and holds many key patents and national and international approvals. Yokogawa UK's offices are in Runcorn, High Wycombe and Aberdeen.



About Yokogawa

Yokogawa's global network of 90 companies spans 55 countries. Founded in 1915, the US$4 billion company conducts cutting-edge research and innovation. Yokogawa is engaged in the industrial automation and control (IA), test and measurement, and other businesses segments. The IA segment plays a vital role in a wide range of industries including oil, chemicals, natural gas, power, iron and steel, pulp and paper, pharmaceuticals, and food. For more information about Yokogawa, please visit the company's website www.yokogawa.com

More from Machinery & Machining Tools