Network Analyzers (Electrical)
Network Analysis Tablet troubleshoots virtualized data centers.
Press Release Summary: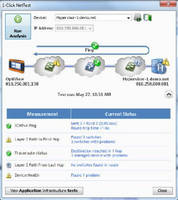 Providing data center visibility, OptiView XG helps identify issues and root causes in minutes. One-Click Test finds connection path in single screen view. Once analysis is complete, engineers can provide consolidated summary report which indicates whether problem is with network or server. If not a network problem, Automated Multi-Segment Analysis feature can be used with another OptiView XG to capture and merge trace files from multiple segments to find where loss and latency are occurring.
---
Original Press Release:

Fluke Networks OptiView® XG V8 Optimized to Speed Troubleshooting in Virtualized Data Centers



New upgrade provides faster issue isolation and resolution in both traditional and virtualized environments

EVERETT, Wash., -- Fluke Networks today announced a new version of its OptiView XG portable network analysis tablet, available now, focused on providing increased visibility into both traditional and virtualized data centers in order to rapidly identify issues and their root cause.

Virtualization has revolutionized data center efficiency, but it has simultaneously made it more difficult for network engineers to physically trace information pathways, identify device locations and troubleshoot network and application issues. With server virtualization expected to nearly double, claiming 75 percent of all data center machines in the next three years according to Gartner, Inc.,(1) network engineers need a quick, easy portable solution that lets them drill down, isolate a problem and see what is really happening within these complex virtualized environments.

New troubleshooting capabilities in OptiView XG allow customers to resolve issues in minutes, instead of having to use multiple tools and dedicating multiple hours for problem resolution. In addition to these enhanced troubleshooting capabilities, the OptiView XG tablet has also been upgraded to be compatible with high-availability data center technologies and protocols, including the Cisco Nexus Series switches, Hot Standby Router Protocol (HSRP) and link aggregation.

"OptiView XG is already the fastest way to see root cause in wired and wireless networks,(2) and the next-generation features are focused on meeting the needs of our customers in the heart of their network - the data center - in a way that provides a rapidly deployable, cost-effective, portable solution," said Gary Ger, vice president and a general manager at Fluke Networks.

Two new troubleshooting features of the OptiView XG v8 are responsible for its ability to rapidly identify data paths and isolate problems within physical and virtual networks: the 1-Click NetTest and Automated Multi-Segment Analysis. With a single button push, the 1-Click NetTest finds the connection path in a single screen view.

Once the analysis is complete, engineers can provide a consolidated summary report which indicates whether the problem is with the network or the server, and is ideal for providing evidence to other stakeholders. If it is not a network problem and a more detailed application analysis is required, engineers can now use the new Automated Multi-Segment Analysis feature with another OptiView XG to capture and merge trace files from multiple segments to find where loss and latency are occurring.

"Continual technology advances like virtualization benefit all of us by providing greater speed, flexibility and capacity, but these advances also create new places for problems to hide," Ger said.

For more information about uncovering those hidden network problems, please visit Fluke Networks.

About Fluke Networks

Fluke Networks is the world-leading provider of network test and monitoring solutions to speed the deployment and improve the performance of networks and applications. Leading enterprises and service providers trust Fluke Networks' products and expertise to help solve today's toughest issues and emerging challenges in WLAN security, mobility, unified communications and datacenters. Based in Everett, Wash., the company distributes products in more than 50 countries. For more information, visit www.FlukeNetworks.com or call +1 (425) 446-4519.

1. Gartner, 2012

2. Fastest root cause analysis of network and application problems claim based on current industry practices and tools, which do not allow troubleshooting both at the desk and in the field for both wired and wireless networks.

CONTACT: Kerry Desberg of Fluke Networks, +1-425-231-9529, Kerry.desberg@flukenetworks.com

Web Site: www.flukenetworks.com

More from Non-Industrial Products