Network A/B Switch keeps data flowing.
Press Release Summary: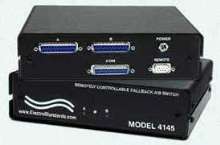 Watch Dog Automatic Fallback Switch, Model 4145, detects carrier presence signal on port A and if carrier is lost, automatically switches to port B. It maintains connection to port B until it detects carrier presence again on port A, then automatically returns to A position. User can override Automatic Fallback and operate Watch Dog as A/B switch. Optional Remote RS232 serial port allows off-site operator to monitor operation mode and switch position.
---
Original Press Release:

New Network DCD 'Watch Dog' Switch Keeps Data Flowing!


Electro Standards Laboratories (ESL), Cranston, RI, announces its new "Watch Dog" Model 4145 Automatic Fallback A/B Switch. The "Watch Dog" detects carrier presence signal on port A and if carrier is lost automatically switches to port B. "Watch Dog" maintains its connection to port B until it detects carrier presence again on port A. At that point "Watch Dog" automatically returns to the A position. The "Watch Dog" is ideal for Automatic Fallback applications based on loss of carrier (DCD). The user can override the Automatic Fallback and operate the "Watch Dog" as an A/B switch. Optional Remote RS232 serial port allows an off-site operator to monitor operation mode and switch position, change the mode or switch position, and lockout the front panel pushbutton. Data, handshake, and clock lines of the RS232 interface are supported. For more information about the "Watch Dog" and other Electro Standards products, please call 401-943-1164, email eslab@ElectroStandards.com, or visit our website www.electrostandards.com. Electro Standards Laboratories 36 Western Industrial Drive Cranston, RI 02921 USA Tel: 401-943-1164 Fax: 401-946-5790 Email: eslab@ElectroStandards.comwww.ElectroStandards.com pub. 3410-01

More from Computer Hardware & Peripherals