NEMA Wiring Device features cage clamp like termination system.
Press Release Summary: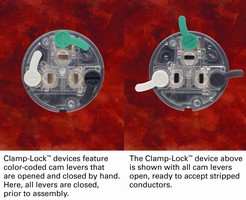 Available in 15 and 20 A straight-blade configurations, Clamp-Lock(TM) design utilizes color-coded cam levers to open and snap-close chambers that accept conductors, simply using finger pressure. Specification- and hospital-grade devices require no tools for insertion and no re-torquing is necessary due to constant clamping force. Device includes 2 fast-travel assembly screws; long, deep funnels to aid in precise insertion of wires; and self-centering external cord grip.
---
Original Press Release:

Marinco Introduces New Clamp-Lock(TM) NEMA Wiring Devices



Devices Feature Cage-Clamp-Like Termination System

NAPA, CA - August 28, 2008 - A new series of specification- and hospital-grade NEMA wiring devices for faster, easier assembly of electrical terminations with safer, more reliable and maintenance-free connections as compared to conventional screw termination systems is being introduced by Marinco Electrical Group.

The new Clamp-Lock devices have terminals which overcome potential causes of device failure by using the concept of spring pressure, applying a consistent amount of pressure that automatically adjusts to prevent shifting of wire strands. Conventional screw terminal wiring devices are self-loosening over time, as a function of heat, shock or vibration; not being tightened completely when installed; or as a result of a phenomenon called creep, a shifting of copper wire strands that allows screws to loosen and terminal temperatures to increase.

Initially available in 15-amp and 20-amp straight-blade configurations, the patented Clamp-Lock design utilizes color-coded cam levers to open and snap-close the chambers that accept the conductors, simply using finger pressure. The Clamp-Lock system requires no tools for insertion and no re-torquing is necessary due to the constant clamping force. Wiring assemblers simply strip the conductor using the molded-in gauge on the device, open the terminal to insert the conductor and then close the cam lever.

Marinco is now in the process of developing 20-amp and 30-amp devices that also will use the Clamp-Lock termination technology.

The unique Clamp-Lock device includes two fast-travel assembly screws to reduce labor; long, deep funnels to aid in the precise insertion of wires; and a self-centering external cord grip for faster assembly. Removable inserts accommodate the widest possible range of cable diameters. Clamp-Lock installations, as compared to conventional wiring devices, reduce installation time by as much as 70%.

"Our patented design ensures a consistent, secure electrical connection every time," said Phil Fram, Marinco vice president of marketing. "The Clamp-Lock product prevents overheating and device failures due to loose terminations and also dramatically reduces installation time and labor for our customers."

Clamp-Lock plugs and connectors are UL listed and CSA certified. Hospital-grade devices meet or exceed stringent hospital-grade UL tests. Clamp-Lock devices are used for demanding-environment applications in hospitals, industrial, construction and entertainment markets.

Marinco Electrical Group is the premier manufacturer of electrical devices and engineered solutions for harsh environments in markets around the world, including Marine, RV, Temporary Power, Healthcare Mobility and Entertainment. With more than 35 years experience, Marinco provides brands, products and technologies that are proven industry leaders. Marinco, an ISO9001-certified company, is headquartered in Napa, Calif., with sales and manufacturing offices worldwide. Marinco is a subsidiary of Actuant Corporation, a market leader specializing in highly engineered position and motion control systems as well as branded hydraulic and electrical tools and supplies.

For more information about Marinco products and technologies, visit www.marinco.com or call (707) 226-9600.