NEMA 4X (IP66) Panel Mount LCDs; Panel Mount LCD Touch Screen Computers; and Fully Enclosed Monitors, Computers, and Workstations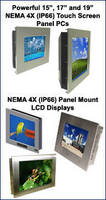 VarTech offers a complete line of NEMA 4X (IP66) products. No matter what your specific application, VarTech has a NEMA 4X (IP66) product that will provide a perfect fit.

NEMA 4X (IP66) rated industrial LCD monitors, computers and workstations designed to be placed in a variety of industrial, food processing or other process control environments requiring extra protection from extensive corrosive environments where the intrusion of dust, rain, hose directed water, applications where corrosive materials (for example saltwater) and caustic cleaners are used, sanitary poultry processing facilities (where total wash-down with disinfectants occur repeatedly), petro-chemical refineries and offshore drilling platforms for oil and natural gas. All NEMA 4X (IP66) models are gasket sealed and constructed from 316 stainless steel.

More from Electronic Components & Devices