NEMA 4 Displays may be used as in-plant digital signs.
Press Release Summary: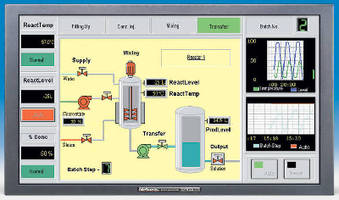 Available for universal or flush panel mounting in landscape or portrait orientation, CyRAQ® 40 monitors feature 40 in. screen and WXGA resolution. Optional AR-Bonding(TM) treatment ensures clear, sharp, high-contrast images, even when light shines directly on screen, and NEMA 4 stainless steel bezel facilitates side-by-side mounting of multiple monitors on display walls. Built with heat-sinking aluminum chassis, CyRAQ 40A and 40SB respectively offer 700 and 1,000 nits of brightness.
---
Original Press Release:

40" CyRAQ® Monitor Ideal for In-Plant Digital Signs



New CyberResearch(r) CyRAQ 40 monitors are the latest addition to our family of rugged NEMA 4 displays. CyRAQ 40A has a brightness of 700 nits and CyRAQ 40SB provides 1000 nits. Both are available for universal or flush panel mounting, in landscape or portrait orientation.

With their wide 40" screen and WXGA resolution (1366 x 768 pixels), CyRAQ 40 monitors are ideal for high-impact dynamic in-plant industrial displays and indoor digital signs. Optional AR-Bonding(tm) treatment ensures clear, sharp, high-contrast images, even when the sun or other bright indoor lights shine directly on the screen. The narrow bezel facilitates side-by-side mounting of multiple monitors on display walls.

CyRAQ 40 monitors feature a rugged NEMA 4 stainless-steel bezel, heat-sinking aluminum chassis, and a front-panel seal that resists sprayed water. They stand up to ambient temperatures from freezing to 122°F, and the protective chassis resists vibration and shock levels as high as 30 g. For complete details, visit our website and type "cyraq 40" into the search box.

In addition to CyRAQ 40 monitors - shipping from stock from $4995 - CyberResearch, Inc., also offers industrial PCs, workstations, chassis, SBCs, motherboards, data acquisition, and motion control. For more information, call Joe Tetreault at 800-341-2525, or visit www.cyberresearch.com.

CyberResearch(r), CyRAQ(r), and AR-Bonding(tm) are trademarks of CyberResearch, Inc. All other trademarks used herein are the property of their respective holders.

To request a free copy of the PC Systems Handbook for Scientists and Engineers, call 1-800-341-2525 or e-mail handbook@cyberresearch.com. Outside of the U.S. please call 203-483-8815 or fax 203-483-9024.

TECHNICAL CONTACT NAME AND JOB TITLE
Mike Mathis, Manager of Applications Engineers
TECH CONTACT'S PHONE NUMBER AND EMAIL ADDRESS
1-800-341-2525 ext 101 sales@cyberresearch.com

COMPANY'S OR DIVISION'S COMPLETE ADDRESS INCLUDING COMPANY/DIVISION NAME
CyberResearch, Inc.
25 Business Park Drive
Branford, CT 06405

BOTH TOLL-FREE AND LOCAL PHONE NUMBERS
1-800-341-2525 and 1-203-643-5000

LINK TO A SPECIFIC WEB PAGE WITH MORE DETAILS ABOUT THIS PRODUCT
http://cyberresearch.com/news/news191.htm

KEY MARKETS SERVED BY THIS PRODUCT
Digital Signage

KEY APPLICATIONS FOR THIS PRODUCT
Outdoor Digital Signs

PRICE OF PRODUCT

Catalog#    Price

CRBF 40A    $4,995.00

CPBF 40A    $5,495.00

CRBF 40A-TRU  $6,495.00

CRBF 40SB    $5,995.00

CPBF 40SB    $6,495.00

CRBF 40SB-TRU  $7,495.00

Joseph Tetreault
Customer Relations Manager
CyberResearch, Inc.
(203) 643-5003 ext 127 - Direct
(800) 341-2525 - Toll Free
(203) 643-5001 - Fax

More from Adhesives & Sealants