Needle Winder features programmable servo axes.
Press Release Summary: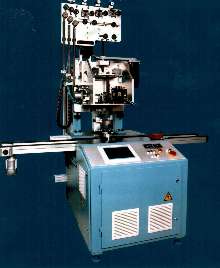 Model AWS 747 offers fully automatic winding, indexing, layering and terminating of both inside-out and outside-in brushless motor stators. It handles up to 6 wires from 0.1-1.5 mm thick. Three-phase winding is possible with up to 3 position-adjustable needles arranged in circle. Wire can be layered on stator teeth by synchronized servo-axes to achieve best possible filling grades. AWS 747 handles inside stack diameters of 20-100 mm and outside diameters of 10-l00 mm.
---
Original Press Release:

Powerful Features, Fast Changeovers Trademarks of New ATS Progammable Needle Winder


CAMBRIDGE, ON - The AWS 747 Needle Winder from ATS Automation Tooling Systems offers fully automatic winding, indexing, layering and terminating of both inside-out and outside-in brushless motor stators in single- or three-needle configurations. What's more, thanks to its programmable servo axes and powerful controls structure, it offers a high level of flexibility for handling product changeovers, literally within minutes.

"Low-volume, high-mix contracts that require frequent changeovers and retooling can make dedicated stator winding equipment a costly alternative." says Klaus Woemer, President, ATS Automation Tooling Systems. "The AWS 747 combines a full range of capabilities and options, tooling flexibility and total
programmability to deliver fast cycle times along with the ability to be quickly and easily reconfigured."

A host of features are available to improve cycle times, including fully automated, built-in terminating on helping hooks; insulation with hooks, terminal pockets or pins; and the ability to integrate easily with manual or auto load/unload pallet handling systems.

Its robust design capable of handling larger stators and up to six wires from 0.1 to 1.5 mm thick makes the AWS 747 ideal for low voltage, high power requirement applications. Intermediate wire terminations are possible at nearly every stator position.

Three-phase winding is possible with up to three position-adjustable needles arranged in a circle. Wire can be layered on the stator teeth by synchronized servo-axes to achieve the best possible filling grades. The AWS 747 handles inside stack diameters of 20 to 100 mm and outside diameters of 10 to l00 mm.

Options include electronic wire dereelers; linear arrangement of the three winding needles; and programmable control of machine settings, wire diameter and wire tension during winding.

A world leader in factory automation solutions, ATS has designed and built more than 10,000 automation systems in areas as diverse as telecommunications, semiconductors, fiber optics, automotive, computers, solar energy and consumer products. ATS has 28 manufacturing and customer support facilities across North America, Europe and Asia.

The AWS 747 Needle Winding Machine

Features:
o Accommodates three-phase winding with up to three position-adjustable needles.
o Machine control by Siemens Simotion.
o Touch-screen display of winding programs and diagnostics.
o Synchronized layer-by-layer winding.
o Load/unload directly to and from pallet transport systems.
o Wire dereelers, wire cut or wire tear systems.

Benefits:
o Provides added configuration flexibility and throughput.
o Programmable for up to eight synchronized axes.
o Simple, rapid reprogramming and control.
o Allows best possible filling grade.
o Requires no additional handling operations.
o Offers additional process flexibility.

For more infonration about the AWS 747 Needle Winding Machine, contact:
Rob Faulhammer
Director of Sales & Marketing
ATS Automation Tooling Systems
Winding Division
Box 32100 Preston Center
Cambridge, ON
Canada N3H 5M2
Phone: 519-653-6500
Fax: 519-650-6677
e-mail: winding@atsautomation.com

More from Food Processing & Preparation