Need it Fast? Thomson 60 Case(TM) Shafting Now Available with Same Day Shipping from Local Stock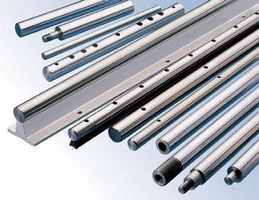 WOOD DALE, IL - Genuine Thomson 60 Case(TM) Shafting is now available from stock with same day shipping. The program's current product offering includes 3 in. maximum diameter shafting with cut-to-length and full length shafting. 60 Case Shafting is available in stainless or carbon steel, with standard machining including axial and radial holes and radial flats, as well as custom coatings such as black oxide, Armoloy and hard chrome plate, among others. With three strategic locations across the United States, the program promises reduced delivery time and shipping costs to distributor locations and OEMs throughout North America.

"Customers increasingly need high quality motion control products faster than ever before, and this program delivers on both counts," says Dennis Howe, Business Unit Director, Linear Bearings and Guides. "Not only will most products ship the same or next day, but Thomson toolmakers and machinists average 22 years experience, and that experience shows in what we believe to be the highest quality shafting available in the industry today," he says.

Orders for Thomson 60 Case Shafting can be placed at 1-540-633-3400.

Bearings Now! from Thomson is a similar inventory program that promises same day and next day shipping, from local inventory, of most Thomson Ball Bushing Bearing products.

About Thomson

With more than 60 years of motion control innovation and quality, Thomson is the industry's premiere producer of Ball Bushing bearings, 60 Case Shafting and related linear motion control products. Thomson pioneered the Ball Bushing bearing in 1945, and has set the standard ever since with an unsurpassed set of mechanical motion control solutions serving a wide range of markets. Thomson is a trusted brand of Danaher Motion.

Danaher Motion,

1500 Mittel Boulevard,

Wood Dale,

IL 60191-1073;

1-866-993-2624;

1-636-281-1517 (fax);

[email protected];

www.DanaherMotion.com.