Need a Prototype? Sigma Can Deliver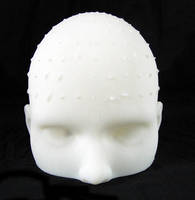 Sigma's 3D Rapid Prototyping FDM Machine can take your design concept and create it in three days.



A human head model was a recent prototype that Sigma manufactured for Kelly Burke, a doctoral candidate at the Albert Einstein College of Medicine in the Bronx.



The research lab is investigating sensory processing in Autism and other developmental disorders using EEG and fMRI. For one of their studies they needed to create a custom, high-density EEG cap. In order to know where to put the electrodes in the cap, they needed to print a head model with the points on them, and contacted Sigma. After receiving the Solidworks (STL) file, the model was ready to be shipped 3 days later.



"Sigma Design was an easy pick for this project not only because they gave the lowest quote, but more importantly they were the best at responding right away, and printed out exactly what we wanted in less time than they estimated," Burke said. "Sigma answered all of our questions, took care of the paperwork, were careful about each detail, and the output head model is perfect! They made the process go so smoothly and accurately and I am already using the cap for our study."



To learn more about our 3D Rapid Prototyping services or to submit a file and receive quote, please visit: http://www.sigmadesign.net/3d_rapid.php.







More from Electrical Equipment & Systems