Near-IR Camera utilizes CCD array with phosphor coating.
Press Release Summary: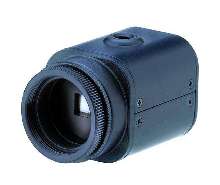 Near-IR Camera offers effective response between 1460-1625 nm. High-speed electronic shutter allows attenuation of high-level signals. Video output is available as EIA signal format via BNC connector on rear panel. Measuring 34 x 37 x 64.6 mm, camera is suitable for applications where space needs to be constrained. Other applications include laser alignment, telecommunication testing, and both on-line and off-line inspection.
---
Original Press Release:
New Version Near-IR Camera Now Available from Edmund Optics
May 31, 2003, Barrington, NJ - Edmund Optics, Inc. (EO) of Barrington, New Jersey has expanded its range of analog cameras to include a new NIR Camera to work in the 1460-1625nm range. This Near-IR camera utilizes a high resolution CCD array that has been specially treated with a phosphor coating. The result is a camera that has an effective response between 1460nm and 1625nm at a cost much lower than seen with other detector technologies. While standard CCD lenses can be utilized in the NIR, their optical designs and coating are generally not optimized for this region of the spectrum. Its high-speed electronic shutter allows for easy attenuation of high-level signals often associated with laser applications. Video output is available as an EIA signal format via a BNC connector on the rear panel. Because of its small size (34mm x 37mm x 64.6mm), this camera is ideal for applications where space needs to be constrained. The camera is also ideal for applications where sensitivity in the near-IR is required, such as laser alignment, telecommunication testing, and both on-line and off-line inspection. About Edmund Industrial Optics Inc. Edmund Optics (EO) has been a leading supplier of optics and optical components to industry since 1942, designing and manufacturing a wide array of multi-element lenses, lens coatings, imaging systems, and opto-mechanical equipment. EO is application-focused and pursues new ways to implement optical technology, enabling advancements in semiconductor manufacturing, industrial metrology, and medical instrumentation. Our staff and facilities span the US, Europe, Singapore, Japan, and China. EO's skilled optical engineers design precision products for use in research, test & measurement applications, and for the automation of manufacturing processes. Visit www.edmundoptics.com to learn more. Contact: James E Liolin Lion Associates Marketing Communications 914-670-0138 jliolin@lionadv.com Jeff Harvey Marketing Manager Edmund Industrial Optics 856-573-6250 ext. 6825 jharvey@edmundoptics.com
More from Controls & Controllers