NE Series Pool Dehumidifier is equipped with indirect-fired furnace.
Press Release Summary: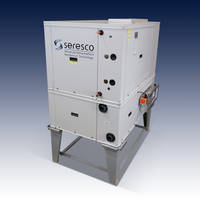 Used in cramped mechanical room access or space applications, NE Series Pool Dehumidifiers are available in rating ranging from 3 to 7 HP. Designed with titanium pool water heater, exhaust fan, parallel booster fan and evaporative cooling condenser, unit's water heater can accept up to 80 G/min rate of main pool circulation loop whereas booster fan delivers an air flow up to 2,000-CFM. Product can provide up to 2,200-CFM at 1in. w.g. static pressure.
---
Original Press Release:
Seresco Introduces R3 Expansion Module to NE Series Indoor Pool Dehumidifier Line
R3 Expansion Module components embody the three sustainability "R"s for natatoriums--reduce (size/footprint); reuse (exhaust); recycle (energy).
Seresco USA Inc., Decatur, Ga., a leading indoor air quality and dehumidification equipment manufacturer, introduces the multi-faceted R3 Expansion Module, plus a compact furnace add-on option for the NE Series product line of indoor pool dehumidifiers.
The R3 is a plug-and-play, 18-inch-high module with a configuration that matches the newly-reduced cabinet footprint of NE Series dehumidifiers ranging from three to seven hp. The R3 features components that embody the three sustainability "R"s for natatoriums–1) Reduce the equipment size and footprint; 2) Reuse exhaust and energy to increase efficiency; and 3) Recycle energy by recovering it.
The R3 components offer additional cost-cutting efficiencies and efficacies for space heating, pool water heating, heat rejection up and above the NE Series' already industry-leading performance. The R3 can be factory-installed or shipped separately for cramped mechanical room access or space applications.
The R3 can include one or all of the following components:
A corrosion-proof titanium pool water heater capable accepting up to 80-gallon/min.(GPM) rates of the main pool circulation loop, but without flow balancing, air locks and other installation challenges associated with off-loop reduced GPM flow piping takeoffs required by conventional dehumidifier pool water heaters. The pool water heater is supplied by recovered compressor waste heat;
An exhaust fan that eliminates the need for external exhaust fans to maintain negative pressure required for natatoriums. Depending on the NE Series model, the option provides up to 2,200-CFM at 1-inch w.g. static pressure with an electronically-commutated fan motor blower and motorized dampers;
An evaporative cooling condenser positioned in the exhaust airstream for full air conditioning capacity that eliminates the expense of refrigeration labor, materials and leak potential liability associated with refrigerant-based outdoor coil condenser heat rejection. The design eliminates 80-percent of the HFC refrigerant required by a conventional dehumidifier with no efficiency trade-offs;
And a parallel booster fan for airflow up to 2,000-CFM in place of the exhaust fan.
Another addition to the NE Series is a compact stand-alone indirect-fired furnace for space heating. The furnace ranges from 80 to 140-MBH.
Like all Seresco equipment, R3 components include multiple transducers that report data to the NE Series dehumidifier's CommandCenter™. The data can then be accessed by authorized personnel smart phones or computers via Seresco's WebSentry™ web-browser based software program.
Other benefits of the R3 are:
Attractive, fully-painted cabinet that matches the NE Series;
And a two-year warranty covers all parts.
For more information on Seresco USA Inc., and its IAQ equipment, please visit www.serescodehumidifiers.com; email sales@serescodehumidifiers.com or call (770) 457-3392.
About Seresco:
Seresco USA Inc., Decatur, Ga., is the U.S. subsidiary of privately-owned Seresco Technologies Inc., which is headquartered in Ottawa, Ontario. Seresco specializes in commercial and residential indoor swimming pool dehumidifiers and other indoor air quality HVAC equipment that's sold through a manufacturer's representative network, and serviced and supported by factory-trained service technicians. For more information, please visit www.serescodehumidifiers.com, email sales@serescodehumidifiers.com or call (770) 457-3392.
For Immediate Release
Contact:
Ralph Kittler,
Vice President--Sales
Seresco USA Inc.
(770) 457-3392 x150
ralphkittler@serescodehumidifiers.com
Related