NDT Inspection System identifies manufacturing defects.
Press Release Summary: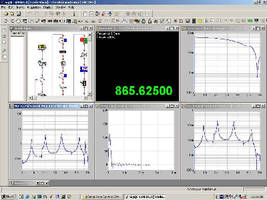 Combining computer power, transducer, and DSP technology, Dinger™ Non-Destructive Test System is used for inspection of raw or machined metal cast, fabricated, sintered, forged, die cast, or ceramic parts. System applies known excitation force and measures vibration to identify resonance frequencies of structure. SigQC™ production test software analyzes components, subassemblies, and products to determine, in real-time, if quality goals are met.
---
Original Press Release:

Signalysis Announces Non-Destructive Test Inspection System



CINCINNATI, OH (USA) -- Signalysis, Inc., the leading provider of end-of-line production test systems for automotive, medical, home appliance, and related industries, announces the release of its non-destructive test (NDT) inspection system, Dinger™. In creating the Dinger, Signalysis has successfully combined inexpensive computer power with new transducer and Digital Signal Processing (DSP) technology in a unique package. Used for inspection of raw or machined metal cast, fabricated, sintered, forged, die cast, or ceramic parts, Dinger ensures quality by providing manufacturers with a solution to quickly and reliably identify parts with global or local manufacturing defects.



Dinger gives users the option of maintaining historical data or a simple Go/No-Go for those who want to keep track of data for statistical process control.  There are also a number of options for serializing historical data including several sophisticated statistical analysis options.



Signalysis President & CEO, Neil Coleman, comments:

"Most engineers are familiar with the concept of mechanical design with specific static load requirements to ensure stability and safety.  All structures, buildings, bridges, automobiles, airplanes, dishwashers, dental drills, roller coasters, and so on, will exhibit a mechanical vibration signature reflecting its material properties.  The Dinger applies a known excitation force and measures vibration to identify the resonance frequencies of the structure.  One might assume that all manufactured parts are built to design and created equal.  However in the real world this is not the case as a component occasionally doesn't meet design specifications.  Such defects can easily be identified and measured by computing a Frequency Response Function and extracting parameters such as Resonance Frequency, Percent Critical Damping, Q-Factor and even a more complex matrix of these modal parameters.  The Dinger has been designed to have a smaller footprint, a higher frequency range with additional math functions for modeling the most complex of applications."



Powered by SigQC™

Dinger is built on Signalysis SigQC production test software. SigQC analyzes components, subassemblies and products to determine, in real-time, if quality goals are met. The system can be integrated into existing manufacturing lines providing a completely automated PASS-FAIL inspection solution. Flexible and scalable, SigQC adapts to meet your current and future production and laboratory applications.



About Signalysis

Founded in 1987, Signalysis, Inc. is headquartered in Cincinnati, OH, and maintains offices and representation in North America and Asia.  Solutions range from turnkey quality control systems to highly technical consulting services. Drawing from the individual and collective expertise of electrical and mechanical engineers, physicists, mathematicians and solid programmers, the company is today a leading provider of testing software, systems, and services to the engineering, scientific, industrial, and environmental communities. Learn more at www.signalysis.com



Dinger and SigQC are trademarks of Signalysis, Inc.

All other brand and product names are trademarks of their respective owners





More from Architectural & Civil Engineering Products