Nd:YAG Laser features 100% air-cooled operation.
Press Release Summary: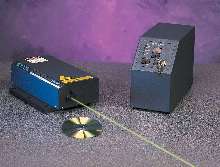 Orion offers continuous operation at 1 Hz or single shot operation with 5 Hz bursts for 50 shots. Motorized optical attenuator and harmonics and dichroics are available for second, third, and fourth harmonic generation. Energy levels range from 35 mJ at 1064 nm to 3 mJ at 266 nm. Beam diameters range from 2.5-3 mm. Orion is suitable for laser-induced breakdown spectroscopy, time-of-flight mass spectroscopy, and general-purpose scientific laser applications.
---
Original Press Release:

New Wave Research Unveils Orion, a Compact, Air-Cooled Nd:YAG Laser System for Scientific Applications


Fremont, Calif., February 4, 2003 - New Wave Research has unveiled Orion, a compact, air-cooled Nd:YAG laser system designed for laser-induced breakdown spectroscopy, time-of-flight (TOF) mass spectroscopy and general-purpose scientific laser applications. The Orion offers continuous operation at 1 Hz or single shot operation with 5 Hz bursts for 50 shots. A motorized optical attenuator and harmonics and dichroics are also available for second, third and fourth harmonic generation.

Leveraging more than a decade of experience developing scientific laser systems, New Wave Research designed the Orion to simplify operation in a laboratory environment. The system features 100% air-cooled operation, with no water anywhere in the system, which minimizes maintenance time and provides easy operation. Moreover, the laser head and power supply are compact and lightweight, saving valuable bench space. Orion's IR-only head measures just 8.5" x 3" x 2" (216 mm x 76 mm x 51 mm). The harmonics head measures just 11.75" x 8.0" x 3.56" (298 mm x 203.2 mm x 90 mm). The small, toaster size power supply measures 11.63" x 5.0" x 8.5" (295 mm x 127 mm x 216 mm). Each unit weighs just 10 lbs (4.4 kg) except the IR-only head, which weights just 3.5 lbs (1.6 kg).

For increased operational flexibility, the Orion has front panel manual controls or an optional remote control panel that manages all laser parameters via an RS-232 interface. In addition, an optional foot switch allows remote triggering of the laser.

Orion is available in a wide range of energy levels, from 35 mJ at 1064 nm to 3 mJ at 266 nm. Beam diameters range from 2.5 mm to 3 mm depending on the model selected. The Orion also generates excellent beam quality. Beam divergence is <3 mrad at the third and fourth harmonic, <4 mrad at the second harmonic and <5 mrad at the fundamental. Jitter is ±1 ns for all models.

Established in 1990, New Wave Research endeavors to lead in the creation, development and manufacture of high-quality, laser-based systems and modules for microelectronics and analytical instrumentation applications. For more information, contact Ed North, New Wave Research, 47613 Warm Springs Blvd., Fremont, Calif., 94539; 510/771-3825; e-mail: lasers@new-wave.com; Web: www.new-wave.com

More from Software