ND SatCom SkyWAN® Terminals Extend Kazakh Telemedicine Networks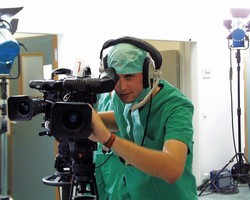 Two Follow-up Orders for Satcom Terminals in Two Years

Friedrichshafen, December 10, 2007 - ND SatCom, an SES ASTRA company, recently implemented a third batch SkyWAN® satellite terminals for a telemedicine project initiated by the Kazakh Ministry of Health. The project was kicked off in 2005 for two of the 14 Kazakh regions and then extended by a further two regions in 2006. With the newly implemented terminals, the telemedical project now comprises the seven regions of Karaghandy, Atyrau, Akmola, Kyzylorda, West-, East- and South-Kazakhstan, which amounts to half of the country's area. The objective of the e-Health project is to establish regional medical centers and equip them with telemedicine networks for offering remote access to experts in urban areas for medical consultancy and collaboration. The VSAT networks consist of three hub stations at central sites in Almaty (2) and Astana (1) and a number of remote terminals.

Due to Kazakhstan's lack of terrestrial infrastructure in remote areas, satellite connectivity is the only solution for fast and reliable communication. The telemedicine networks connect urban medical centers, hospitals and medical universities throughout the country with doctors based in rural, remote and inaccessible sites. Transmitted data are either real-time, e.g. telephone, live operations and video-conferencing, or store-and-forward data such as patient files and X-Ray photographs.

Dietmar Riedel, Director Sales Europe & CIS of ND SatCom, states that feedback has been very positive: "The installation of these networks led to a significant reduction in the times taken to diagnose certain illnesses and diseases. Thus overall medical care response time has been shortened in addition to the time and effort required to transport patients to medical centers. Furthermore, diagnoses have proved much better in the districts served by telemedicine networks."

About ND SatCom

ND SatCom, an SES ASTRA company, is a leading global supplier of satellite-based broadband VSAT, broadcast, government and defence communication network and ground station solutions. ND SatCom's innovative technologies are deployed in government and defence, broadcast & media, enterprise and telecom environments worldwide. As a global company with more than 25 years of experience in the satellite networks and systems businesses, ND SatCom is a reliable source of comprehensive and secure turnkey and tailored system engineered solutions. ND SatCom is represented by regional sales and service offices worldwide.

Your contact

ND SatCom
Corporate Communications
Anita Bunk
Phone : +49 7545 939 7103

We provide this picture for publication. Please contact me at anita.bunk@ndsatcom.com.

More from Construction Equipment and Supplies