ND SATCOM is Proud to Announce SKYWAN Technology has been Nominated for Via Satellite's 2018 Satellite Technology of the Year Award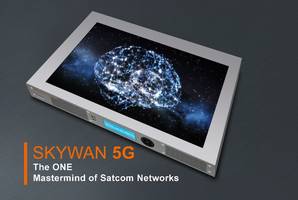 Satellite and Connectivity Professionals can vote to help SKYWAN Technology win the inaugural, Satellite Technology of the Year award.
April 19, 2019, Friedrichshafen, Germany – ND SatCom GmbH, the premier supplier of and integrator for innovative satellite communication equipment systems and solutions, announces SKYWAN Technology has been nominated for Via Satellite's 2018 Satellite Technology of the Year Award. The nominees are chosen based on innovation, benefit to the industry, and overall disruption to the satellite landscape.
SKYWAN Technology is a unique hybrid modem complete with MF-TDMA and DVB-S2X, allowing for real-time transmission with high throughput, the best transport per application.  It delivers broadcast, enterprise, governmental and defence solutions and featuring a quick deployable hubless infrastructure and network architecture and is complemented with various antennae up to electronic steerable antenna. Known for its high level of security, SKYWAN Technology provides reliable station-to-station, site-to-site, and rooftop-to-rooftop communication with dynamic and efficient use of satellite capacity via optimization of jitter, delay and throughput. Moreover, any network service reconfigurations can be done without downtime. Another benefit is hardware; one box stays throughout its lifecycle, despite network changes. As part of 3GPP, ND SatCom integrated and commercialized SKYWAN with LTE as the forerunner to 5G technology. In its continual effort to innovate and shake up this sector, ND SatCom introduced in 2018 the SKYWAN 5G spot beam mesh technology, which permitted roaming of mobile terminals. In addition, ND SatCom is bringing military technology to the commercial sector, using satellite comms-on-the-move, to save cost and provide ease of use.
The winner of the 2018 Satellite Technology of the Year will be determined by a combination of the Via Satellite editorial team, including Editorial Director, Mark Holmes, and votes that come directly from industry. The public can vote for SKYWAN Technology online, or onsite at the SATELLITE 2019 event, which takes place May 6-9 at the Walter E. Washington Convention Center in Washington, D.C.  There will be stations for attendees to vote at the Via Satellite booth (#543 on the show floor).
"In 2018, we introduced mesh single-hop communication using HTS spot beam satellites helping customers to benefit from existing COTM capabilities in the railway and maritime sector" says Michael Weixler, Head of Product Management.
According to Alexander Mueller-Gastell, CEO of ND SatCom, "firstly we commercially succeeded in 2018 by installing the SKYWAN Technology paired with COTM antenna and a smart transmission planning tool from ND SatCom to show a cost sensitive TV operator in Africa to save operating cost by applying our SKYWAN solution in his daily news business for live broadcasting events from the roads. Secondly, the reliability and proven real-time performance of SKYWAN convinced another large customer to introduce our flexible SKYWAN Technology in his transportable military solutions. And thirdly, we were surprised to get so much demand for our integration with LTE cells offering cell-to-cell communication enabled by our SKYWN Technology."
From the host of the prestigious "Satellite Executive of the Year Award", Via Satellite has a longstanding history of recognizing the people leading the charge for the satellite industry.
"Via Satellite is dedicated to recognizing the technology breakthrough that has changed the way the satellite and connectivity industry worked in 2018 and for years to come," said Mark Holmes. "We're proud to offer this award and recognize the technology as part of our ongoing commitment to the global satellite industry."
Voting closes at noon ET on Tuesday, May 7th. The winner will be announced at a special Awards Luncheon, sponsored by Peraton, at SATELLITE 2019 on Wednesday, May 8, 12:00 p.m. – 1:30 p.m.  Tickets for the Awards Luncheon can be purchased through SATELLITE 2019 registration.  SATELLITE 2019 will take place at the Walter E. Washington Convention Center, located at 801 Mt Vernon Pl NW, Washington, D.C. 20001.
For more information on the award, or to vote for SKYWAN Technology, please visit https://www.viasatellite.com/vote 
About Via Satellite
Via Satellite, a monthly publication providing essential news and expert business analysis on the global satellite communications marketplace, including current and evolving applications, infrastructure issues, technology, and business and regulatory developments around the word reaches the most engaged community of satellite professionals and qualified industry decision makers.   
About ND SATCOM
With over three decades of experience, ND SatCom is the premier supplier of and integrator for innovative satellite communication equipment systems and solutions to support customers with critical operations anywhere in the world. Customers in more than 130 countries have chosen ND SatCom as a trusted and reliable source of high-quality and secure turnkey and custom system-engineered communication solutions. The company's products and solutions are used in more than 200 transnational networks in government, military, telecom and broadcast environments.
ND SatCom's flagship product, the SKYWAN platform, enables international users to communicate securely, effectively and quickly over satellite.
You will find us – ND SATCOM – at SATELLITE 2019 in Washington, Booth #118
About SATELLITE 2019
SATELLITE unites 15,000 aerospace and connectivity thought leaders, entrepreneurs, executives, engineers, end-users and enthusiasts from over 100 countries for the largest and most important global satellite technology event of the year. Serving all industries looking to better their business operations or enhance their strategy through connectivity, the SATELLITE Conference and Exhibition will take place on May 6-9, 2019 at the Walter E. Washington Convention Center in Washington, D.C.
Contact:
Arzu Evlek
Director Marketing
+49 7545 939 8751
arzu.evlek@ndsatcom.com
More from Machinery & Machining Tools