Global Positioning Systems (GPS)
Navigation Device suits car and outdoor applications.
Press Release Summary: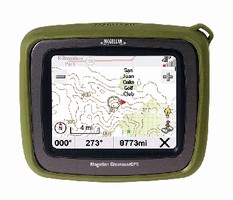 Preloaded with street maps and topographic contour maps, Magellan® CrossoverGPS(TM) operates as dedicated vehicle navigation system and as outdoor navigation device for areas without roads. For vehicle navigation, unit provides voice- and text-prompted turn-by-turn driving directions. Outdoor mode offers guidance using GPS coordinates for geographical locations, such as latitude and longitude. Measuring 3.4 x 4.3 x 1.1 in., unit has 3.5 in. color touch-screen display and IPX-4 waterproof design.
---
Original Press Release:

Magellan Debuts New Magellan® CrossoverGPS(TM) At 2006 SEMA Show



Attendees Get First Look at the All-In-One, Portable Navigation Solution for the Car and the Outdoors with Street and Topo Maps, IPX-4 Waterproof Design, Best-In-Class Battery Life and More

LAS VEGAS -- Magellan, creators of the Hertz® NeverLost® and a leading global innovator of outdoor and vehicle navigation solutions, debuts its new Magellan CrossoverGPS at SEMA, booth #10324, North Hall, giving attendees an exclusive, hands-on demonstration of the world's first rugged, IPX-4-waterproof device designed to provide navigation for both driving and outdoor adventures. Available in December at $549.99, the traffic-ready Magellan CrossoverGPS is a cross between two products, delivering the same superior car navigation experience as the award-winning Magellan RoadMate(TM) line, plus the functionality of handheld GPS receivers for the outdoors from the company that first brought the technology to the consumer market. Preloaded with both street maps and topographic contour maps, the CrossoverGPS guides users from door-to-door in a car - and from point-to-point where the road ends - so they can enjoy driving, off-roading, hiking, geocaching, boating, fishing and more, all with one GPS device!

"The Magellan CrossoverGPS creates a new category of navigation solutions with its unique flexibility to address a multitude of travel needs like no other product," said Christian Bubenheim, vice president of consumer product marketing. "The Magellan CrossoverGPS combines two products in one, operating as a dedicated vehicle navigation system and an outdoor navigation device without compromising the performance of either mode. Customers can rely on a single device to gain the confidence of knowing where they are and how to get where they're going at all times whether traveling on the road, in the wilderness or on water."

Cross Over from the Road to the Outdoors Without Getting Lost
Vehicle Navigation: Magellan CrossoverGPS (previously referred to as the Magellan RoadMate(TM) 2500T) offers voice-and text-prompted turn-by-turn driving directions with pre-loaded street-level maps for the 50 United States, Canada and Puerto Rico. The easy-to-use system features a 3.5 inch color touch-screen display with a 3-D birds-eye map view. The vehicle navigation mode delivers the fee-free SmartDetour(TM) feature to help drivers route around freeway traffic; SayWhere(TM) directions with audible street names for extra driving confidence; and optimized multi-destination routing for the quickest and most efficient routes when making several stops. Its searchable directory of nearly 2 million points of interest helps users easily find restaurants, lodging, gas stations, banks and other useful businesses and services. The system also provides a MP3 player and photo viewer for added entertainment value as a travel companion. In addition, users have the option to add real-time traffic capabilities to avoid delays and get to their destination faster.

Outdoor Navigation: To help users find their way through land areas without streets, Magellan CrossoverGPS delivers pre-loaded topographic contour maps, plus the ability to create and go to waypoints and routes or backtrack. The outdoor navigation mode provides guidance using GPS coordinates for geographical locations, such as the latitude and longitude of a starting point and a desired destination. Other convenient features, like the compass screen and the ability to save a base camp location, make the Magellan CrossoverGPS easy to use even for novice navigators. The integrated battery lasts up to eight hours for extended cord-free operation during outdoor activities.

Add Lakes Data, Marine Charts or Extra Topographic Detail
Similar to Magellan GPS receivers for outdoor navigation, the CrossoverGPS allows users to load mapping software via optional SD memory cards to enhance navigation capabilities for hiking, off-road excursions and water sports. The Magellan software line provides additional topographic maps to enhance the detail of the topo content preloaded on the Magellan Crossover. In addition, Magellan MapSend Lakes and MapSend BlueNav XL3 provide useful information like fishing hot spots and marine charts for saltwater activities.

Add Real-Time Traffic Capabilities
Available in early 2007, the optional Magellan TrafficKit(TM) will allow the Magellan CrossoverGPS to display map screen icons that show traffic jams and conditions that impede the normal flow of traffic, such as accidents road construction and lane reductions. Drivers are automatically rerouted around traffic unless they choose to see traffic alerts for information only. Drivers can also choose to see all or specific types of incidents, and can learn details about each by touching the associated icon. The TrafficKit will retail for $99, which includes three months of traffic service.

Small, powerful and portable, the Magellan CrossoverGPS measures 3.4 x 4.3 x 1.1 and weighs 8.5 ounces. The system has a built-in lanyard hook and ships with a Sports Guard(TM) sleeve for easy gripping and protection in any environment. For information on Magellan Crossover accessories or other Magellan navigation products, visit magellanGPS.com.

About Magellan
Magellan is a leader in the consumer, survey, GIS and OEM GPS navigation and positioning markets.

Recognized as an industry innovator, the Company is the creator of the award-winning Magellan RoadMate series portable car navigation systems, the Magellan eXplorist(TM) outdoor handheld navigation devices, the Hertz NeverLost car navigation system and ProMark(TM), the best-selling single frequency GPS survey product line on the market. The company is recognized worldwide through its Magellan brand and has experienced dramatic revenue growth as GPS technology has proliferated across a range of consumer and commercial applications.

The Company is privately held and headquartered in San Dimas, California with European headquarters in Carquefou, France.

© 2006 Magellan Navigation, Inc. All rights reserved. Magellan, CrossoverGPS, Magellan RoadMate, SayWhere, SmartDetour, TrafficKit, eXplorist and ProMark are trademarks of Magellan. Hertz NeverLost is a registered trademark of Hertz Systems, Inc.

Contacts
Magellan Navigation, Inc.
Angela Linsey-Jackson, 909-394-5062
alinsey-jackson@magellanGPS.com

Magellan debuts its new Magellan CrossoverGPS(TM) at SEMA where attendees will get an exclusive look at the first rugged, IPX-4-waterproof device designed to provide both vehicle and outdoor navigation, available this December

More from Agricultural & Farming Products