Natural Gas Booster includes uninterruptible power supply.
Press Release Summary: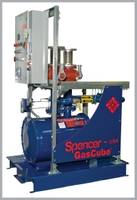 Suited for facilities that provide critical services, GasCube(TM) boosts pressure for boilers, HVAC, hot water heaters, and manufacturing process equipment. Pre-wired, pre-piped skid package can boost utility street-pressure levels by as much as 83 in. WC with volumes to 240,000 cfh. UPS provides instant protection from momentary power interruption and can be relied on to power equipment during longer term outages until auxiliary power supply can be turned on.
---
Original Press Release:
Spencer GasCube with Uninterrupted Power Supply Maximizes Uptime for Mission-Critical Applications
The Spencer Turbine Company's innovative GasCube(TM) natural gas booster skid package is available with an Uninterrupted Power Supply (UPS) unit that can be used as an emergency generator in applications where downtime is not an option. The GasCube with UPS is the ideal solution for boosting natural gas pressure in facilities that provide critical services. The UPS unit is available for high rise buildings with elevators, computer servers, data centers, telecommunication facilities or other installations where an unexpected power disruption could cause injuries, fatalities, serious business disruption or data loss. Spencer's GasCube natural gas booster skid package with UPS is an extended offering of Spencer's UL Listed GasCube series, the latest innovation from the air and gas-handling leader that introduced the first UL Listed hermetic gas booster in 1975. It is a ready-to-go solution for boosting pressure for boilers, HVAC, hot water heaters, manufacturing process equipment, or any other mission critical equipment. The GasCube is shipped prewired, prepiped, and factory tested. It has a compact footprint and has the capability to boost utility street-pressure levels by as much as 83 inches WC with volumes to 240,000 CFH. These are the highest performance ratings available. The UPS unit is UL and CUL Listed and is suitable for indoor use. The UPS provides instant protection from a momentary power interruption and can also be relied on to power equipment during a longer term outage until an auxiliary power supply can be turned on, grid power is restored, or equipment is safely shut down. The Spencer GasCube series design also provides a continuous flow of incoming natural gas around the UL Listed explosion-proof motor, cooling the motor and extending its life. It is factory assembled and tested before shipping, with set-point adjustments that are made using a pre-engineered PLC control panel with an operator interface terminal (OIT). Spencer's control panel, in a weatherproof NEMA 4 cabinet, is pre-engineered to monitor actual flow (CFH) based on current (Amps), and monitor motor temperature to prevent overheating. The data is displayed at the OIT. A combination starter is provided for power distribution and protection to the booster motor. The main disconnect switch/circuit breaker combines with a motor starter and overload relay to provide proper motor protection. In addition, a standard recirculation valve control is included on systems that require lower operating flows than the specified gas booster rated flow. If the gas flow is required to go below the allowable operating range, a modulating recirculation valve with an air-cooled heat exchanger will be installed in the recirculation loop to keep the flow just above the minimum to ensure reliable motor operation. Simplex and duplex designs of the GasCube series can be provided. All designs are backed by Spencer's 120 years of technical experience and can be installed and connected to field power and gas lines efficiently. It's an ideal solution when deadlines are tight, not just for mission-critical installations, but also for industrial, commercial and institutional applications including schools, housing complexes, warehouse/distribution centers, manufacturing plants, healthcare facilities, office buildings, restaurants, and sports arenas. Spencer's local sales representatives and in-house sales and engineering groups are always available to provide technical expertise and to assist our customers with product selection and design. They are also available to be on-site to assist with start up. Spencer can provide the GasCube series to meet specific requirements, including outdoor and duplex installations, remote location of the control panel, and other variations. Additional optional accessories are also available, including check valves, pressure regulators, low- and high-discharge pressure switches, and enhanced control features. To consult with a Spencer representative on natural gas booster needs, call 800-232-4321 or visit www.spencerturbine.com. About The Spencer Turbine Company
The Spencer Turbine Company is a privately held, U.S.-owned and -operated provider and servicer of blowers and gas boosters, vacuum systems and other accessory products. Based in Windsor, Conn., Spencer has applied a unique Engineering Edge since 1892 to create innovative solutions for air and gas handling problems. The company is a world leader in addressing wide-ranging energy and environmental solutions across industries and applications that include nuclear, coal, gas, electric and emerging technologies such as fuel cells and hydrogen systems. The company also provides solutions for digester gas and landfill gas recovery and utilization; barge vapor extraction; combustion air delivery; wastewater treatment aeration; soil remediation; emission control; flue gas desulfurization processes, vacuum cleaning for plant-wide cleanliness; and waste material reclamation and recycling.
More from Electronic Components & Devices