National Nail's STINGER(R) CS150B Cap Stapler Named Roofing Magazine's Roofers' Choice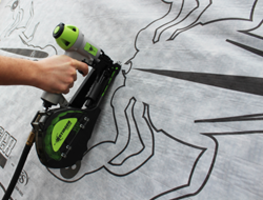 National Nail has announced that its STINGER® CS150B Cap Stapler is the single winner of the Roofers' Choice Award in the recent Sep/Oct issue in a full-page feature. The product generated the most interest from Roofing's readers when it was featured in the May/June issue's "Materials & Gadgets" section.
"We are thrilled to receive this recognition for the CS150B from Roofing Magazine, which serves as the voice of the industry," said W. Scott Baker, CEO, National Nail. "It truly validates our research and product development to have the actual readers express their enthusiasm for our enhanced cap stapler."
STINGER's newly upgraded CS150B cap stapler improves performance with easier loading, longer tool life, and tool-free adjustable exhaust. The versatile cap stapler features enhanced speed and durability which makes it ideal for installing roofing underlayments, house wrap, and foamboard. The CS150B Cap Stapler is able to shoot 200 caps and 200 staples before reloading with staple sizes ranging from 5/8" to 1-1/2". It also includes an installed air fitting, belt hook, trigger with bumpfire and sequential modes, and durable carrying case.
The Roofers' Choice 2018 full-page profile is featured in the Sept/Oct of Roofing Magazine, Or to learn more about the CS150B at http://www.STINGERWORLD.com or call 1-800-746-5659.
About National Nail: 
National Nail Corp., headquartered in Grand Rapids, Mich., is an employee-owned manufacturer and distributor of high quality, innovative building products and service solutions for the residential and commercial construction industries. Other National Nail brands include Pro-Fit® (packaged, bulk and collated fasteners), and CAMO® (Edge Deck Fastening System; Premium Deck, Premium Trim, Composite, and Structural Screws).
More from Fluid & Gas Flow Equipment