National and Nuventix Introduce New Reference Design for LED Bulbs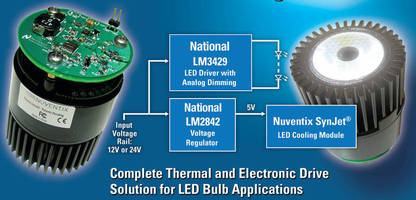 Complete Electronic Drive and Thermal Management Design for LED Bulbs Speeds and Simplifies Replacement of Conventional Bulbs

SANTA CLARA, Calif. and AUSTIN, Texas - May 5, 2009 - National Semiconductor Corp. (NYSE: NSM) and Nuventix, Inc. today unveiled a new electronic drive and thermal management reference design that simplifies development of high-brightness light-emitting diode (LED) bulb fixtures that replace incandescent or compact fluorescent light bulbs in standard sockets.

The new LED electronic drive and thermal management reference design will be demonstrated in Nuventix's booth #3260 at the Lightfair International conference in New York from May 5 to 7.

LED replacement bulbs typically require four different design components: the LED, electronic drive board, thermal management system and optics. Integrating these complex design components to produce an efficient and high-performance LED bulb system can be challenging.

A new reference design featuring National Semiconductor's electronic drive board together with the SynJet® cooling module from Nuventix provides lighting designers with a complete electronic drive and thermal management design for high-performance LED replacement bulbs.

The SynJet thermal management module from Nuventix features a synthetic jet cooling technology that utilizes turbulent pulses of air generated from an electromagnetic actuator to reliably and efficiently cool the LED. It is compatible with standard bulb form factors including MR16 and PAR 38.

"SynJet cooling by Nuventix is essential to optimize lumen output and LED reliability for LED lighting," said Jim Balthazar, president and CEO, Nuventix. "With this National reference design, lighting designers have a plug-and-play solution for designing the complete LED luminaire."

The electronic drive board from National Semiconductor features the LM3429 buck-boost LED driver and LM2842 voltage regulator systems. The LM3429 system provides a constant current to the LEDs from input voltage rails of 9V to 36V, includes analog dimming capability and is configured to drive up to 12 series-connected LEDs. The LM2842 system powers the SynJet electromagnetic actuator. The form factor of the electronic drive board is compatible with the Nuventix SynJet MR16 and PAR38 modules.

"This new reference design enables lighting designers to quickly, easily, and reliably design a thermal and electronics drive system for any MR16 or PAR38 form factor LED bulb," said Michael White, National Semiconductor vice president, power management. "Collaborating with Nuventix is just another example of how National Semiconductor is working toward providing complete system level, easy-to-use solutions."

For more information on the reference design, visit www.national.com/led or www.nuventix.com.

Availability

The LED electronic drive and thermal management reference design is available now for download from www.national.com/led. For more information on National's LM3429 buck-boost LED driver and LM2842 voltage regulator, visit www.national.com/pf/LM/LM3429.html and www.national.com/pf/LM/LM2842.html.

About National Semiconductor

National Semiconductor creates energy-efficient analog and mixed-signal semiconductors. Its PowerWise® products enable systems that consume less power, extend battery life and generate less heat. Headquartered in Santa Clara, Calif., National reported sales of $1.89 billion for fiscal 2008 which ended May 25, 2008. Additional company and product information is available at www.national.com.

About Nuventix

Nuventix is revolutionizing thermal management of consumer electronics, high-brightness LED lighting, medical, telecommunications, automotive and other electronics with patented, highly adaptable, quiet and reliable cooling devices that efficiently - and directly - dissipate heat from any surface. The patented SynJet technology enables the most reliable and flexible air cooling solutions available today. The Austin, Texas-based company is venture-backed and led by an experienced team of senior executives with a breadth of experience building and leading thermal and start-up companies to success. More information can be found at www.nuventix.com.


More from Non-Industrial Products