NASA's Satellite Refueling Mission Progresses with Help from DSTI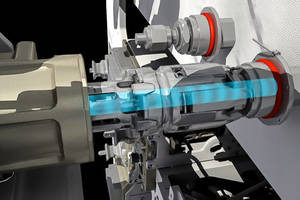 MINNEAPOLIS, Minn. - March 29, 2017 - More than 1,000 operational satellites currently in orbit will one day run out of fuel and burn up in our atmosphere as they fall back towards Earth or remain space debris forever.
Costing tens of millions of dollars each launch, satellites have a limited lifespan restricted by their fuel tank capacity. However, with NASA's continued research, servicing and refueling missions may become a realistic option to drastically extend their life.
In 2011, DSTI's mission-critical fluid rotary unions were on-board NASA's space shuttle Atlantis delivering tools to the International Space Station (ISS) for the Robotic Refueling Mission (RRM); an experiment to demonstrate and test tools, technologies and techniques needed to robotically service satellites in space.
After two years of preparation, RRM successfully completed the first robotic refueling task by transferring a simulated spacecraft propellant across a common spacecraft fill and drain valve.
"We were thrilled with the performance during testing of DSTI's early rotary union prototype units for RRM. Even under pressure, they ran with almost zero parasitic torque," says Matt Ashmore, Mechanical Engineer for NASA/Orbital ATK's Satellite Servicing Projects Division.
Today, preparation is underway for the final RRM mission, during which the ISS's dexterous robot, equipped with a revised DSTI rotary union design, will use supplied tools to demonstrate refueling using actual cryogen liquid.
With all of this effort leading up to the 2020 Restore-L mission to launch a robotic spacecraft to refuel a live satellite, success will demonstrate servicing and refueling technologies are ready for incorporation into other NASA missions as well as encourage other commercial entities to help build a domestic satellite servicing industry.
ABOUT DSTI
Dynamic Sealing Technologies, Inc. (DSTI) specializes in the design and manufacturing of application-specific fluid solutions worldwide. DSTI's engineered fluid sealing products transfer hydraulic oil, chemicals, water, air, and a variety of other liquids and gases for rotating applications. The company offers custom integrated solutions to meet the unique design, manufacturing, testing, and qualification requirements of each project. DSTI has a full line of in-stock, standard fluid and electrical products including fluid rotary unions and electrical slip rings designed to meet a wide range of industrial applications.
DSTI - Dynamic Sealing Technologies
13829 Jay St. N.W.
Andover, MN 55304
Phone: 763-786-3758
Contact:
Chris Huntress
Email: chris.huntress@dsti.com
Related