Narrow Web Slitting Services Support IVD Development and Manufacturing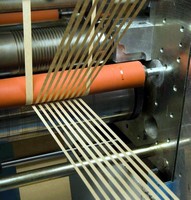 San Jose, CA - September 11, 2008 --- G&L Precision Die Cutting offers narrow web slitting services of IVD components including nitrocellulose, fiberglass, absorbent pads, pressure sensitive adhesive tapes, conductive films and more. Their proprietary process supports working with delicate materials with little or no tension and slitting as narrow as 3mm when working from raw materials 6 inches or less in width. In addition G&L offers custom lamination for IVD substrates, backing cards, printed cover tapes and sub-assembly services for this market.

Some typical materials we are experienced in handling include:

o Nitrocellulose

o Custom Materials

o Fiberglass pads

o Films

o Polyester woven pads

o Active membranes in a dry room environment

o Woven materials

o Non-woven materials

o Untreated membranes

o Pressure sensitive adhesives

o Filtration materials

o Foil

o Cellulose materials

About G & L Precision Die Cutting

Since 1978, the founders of G&L Precision Die Cutting have transformed a garage-based die cutting business into an international operation with over 53,000 square feet on 4.5 acres that serves the medical, diagnostic, laboratory, electronics, industrial/commercial and aerospace industries. Today, G&L reaches customers in more than 40 countries, manufacturing products that meet customer specification, schedule and budget parameters.

We offer tight tolerance and high speed rotary die cutting, multi-layer lamination, flat bed die cutting, laser cutting, reciprocating and horizontal punch presses, narrow web slitting and converting, flexographic printing, sub-assembly and finished-device assembly services and design and material assistance.

For more information, visit www.glprecision.com.


More from Cleaning Products & Equipment