Nanovoltmeter eliminates noise in low-voltage measurements.
Press Release Summary: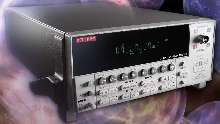 Model 2182A enables user to make resistance measurements, pulsed I-V measurements, and differential conductance measurements. It can make 15 nV peak-to-peak measurements at 1 sec response times and 40-50 nV p-p measurements at 60 msec times. Built-in Delta Mode coordinates measurements with reversing current source at up to 24 Hz with 3 nVrms/root-Hz noise. Synchronized to line frequency, unit can provide 110 dB rejection to noise.
---
Original Press Release:

Keithley Launches Model 2182A Nanovoltmeter for Eliminating Noise in Low Voltage Measurements


Cleveland, Ohio - July 14, 2004 - Keithley Instruments, Inc. (NYSE:KEI), a world leader in advanced electrical test instruments and systems, today introduced its Model 2182A nanovoltmeter, which is optimized for making low noise measurements in research, metrology, nanotechnology, superconductivity, and other low voltage/resistance applications.

The Model 2182A brings a powerful new set of capabilities to researchers when used in conjunction with Keithley's recently introduced models 6220 DC current source and 6221 AC/DC current source; users now are able to make resistance measurements, pulsed I-V measurements, and differential conductance measurements faster and more accurately than previously possible, in many cases eliminating the need for an expensive lock-in amplifier or AC resistance bridge. The combination is also useful in many nanotechnology applications because of its ability to measure resistance while dissipating very little power in the device under test (DUT).

Major Features/Benefits. The Model 2182A is able to minimize DC drift and noise common to low voltage measurements with rapid measurement speeds beyond what is achievable by previous nanovoltmeters or sensitive DMMs. The instrument is able to make 15nV peak-to-peak measurements at one-second response times and 40-50 nV p-p measurements at 60 millisecond times.

The unit features a built-in Delta Mode to coordinate measurements with a reversing current source (one-button operation when used with Keithley models 6220/6221) at up to 24Hz with 3nVrms/root-Hz noise, creating a system optimized for precision measurements of low resistance materials or devices. The new delta mode operation alternates nearly three times faster than its predecessor model, reducing measurement noise by nearly a factor of two. In addition, the new delta mode incorporates a new cancellation method that reduces the effects due to changing thermoelectric voltages by a factor of ten compared to its predecessor.

By synchronizing to line frequency, the Model 2182A provides 110dB rejection to noise at line frequency and minimizes the effect of AC common-mode currents. The unit offers two channels for measuring voltage or temperature. Or, the second channel can be used for reading the ratio of an unknown resistance directly to a reference resistor. Built-in thermocouple calculations for types J, K, N, T, E, R, S, and B are provided.

Combined with Keithley's New Models 6220/6221 Current Sources. Integrating the Model 2182A with either of Keithley's new current sources, models 6220 or 6221, creates a powerful test system capable of acting as a single instrument. When linked with the Ethernet-enabled Model 6221, the combined system effectively operates as an Internet-controlled nanovoltmeter system, allowing customers to control both sourcing and measuring through a single Internet IP address.

Some of the most important capabilities of the Model 2182A, when combined with the models 6220 or 6221, include:

o Wide measurement range, from 10 nano-ohms (lowest noise) to 1 Gohms.

o Differential conductance, an increasingly common measurement for characterizing semiconductor and nanotechnology materials, can be performed 10x faster and with lower noise by the Models 622X and 2182A than by existing solutions, including lock-in amplifiers and AC resistance bridges.

o When combined with the Model 6221, the Model 2182A can support pulsed resistance and pulsed I-V measurements with pulses as short as 50 microseconds, even at low currents. Short pulses mean less power put into the DUT, particularly important in very small devices where even a small amount of power may be enough to destroy the device or produce an invalid reading. To eliminate DC offsets and line frequency noise in these sensitive pulse measurements, the 6221/2182A pulsed mode utilizes both line synchronization and delta-mode techniques.

Price and Availability. The Keithley Model 2182A Nanovoltmeter is priced at $2803 (US). Delivery is eight weeks ARO.

For More Information. For more information on Keithley's Model 2182A, or any of its measurement instruments, contact the company at:

Telephone: 888-534-8453440-248-0400
FAX: 440-248-6168
E-mail: product_info@keithley.com
Internet: www.keithley.com
Address: Keithley Instruments, Inc.
28775 Aurora Road
Cleveland, OH 44139-1891

About Keithley. With more than 50 years of measurement expertise, Keithley Instruments (www.keithley.com) has become a world leader in advanced electrical test instruments and systems from DC to RF (radio frequency) geared to the specialized needs of electronics manufacturers for high performance production testing, process monitoring, product development, and research. By building upon our strength in electrical measurement solutions for research, Keithley has become a production test technology leader for the semiconductor, wireless, optoelectronics, and other precision electronics segments of the worldwide electronics industry. The value we provide to our customers is a combination of precision measurement technology and a rich understanding of their applications to improve the quality, throughput, and yield of their products.

Products and company names listed are trademarks or trade names of their respective companies.

More from Test & Measurement