Nanostep Drivers provide 500,000 steps/rev.
Press Release Summary: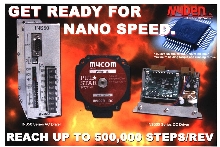 INS50 and INS500 ac enclosed and dc unenclosed drivers, respectively, are programmable from 1/1 step to 1/1000 step in 16 resolution settings, and can drive all of company's NEMA size 17 to 34 high torque five-phase motors rated 1.4 to 2.8 A. INS50 integrates 100 to 120 Vac input while INS500 is operated from 24 Vdc power supply. Both are bipolar constant current chopper drivers that maintain maximum holding and running torque while performing each nanostep.
---
Original Press Release:

INS50 and INS500 Five-Phase Nanostep Drivers Perform 500,000 Steps Per Revolution and Reduce Heat Dissipation!


San Jose, CA-NYDEN CORPORATION USA, the leading designer of worldwide advanced motion control systems, announced today the immediate availability of its new INS50 five-phase nanostep driver. Integrating an AC 100-120V +/-10% input voltage for maximum performance, NYDEN's new INS50 boasts the programming capacity to run up to 500,000 steps per single revolution. It easily outperforms all other global competitors' own nanostep driver version with their maximum resolution of only 250,000 steps per revolution in a five-phase motor-driver series. A DC version, called the INS500, provides designers the option of an unenclosed system that gives optimal flexibility for motor and external device connections. It can be operated from a single unregulated 24V DC power supply, also supplied by NYDEN.

Both INS50 and INS500 drivers are NYDEN's own STAR bipolar constant current chopper drivers with CE Ratings to meet international safety requirements. They offer 16 resolution settings that are programmable from 1/1 step to 1/1000 step. Designed to drive all of NYDEN's nema sizes 17 to 34 high torque five-phase motors rated 1.4 to 2.8 amps, the drivers execute extremely smooth running operation while retaining critical torque needed for optimal motor performance. This is achieved by the inclusion of NYDEN's unique torque chip that is programmed in each AC driver to specifically maintain maximum holding and running torque while performing each nanostep; henceforth, eliminating the requirement for ball reduction mechanisms. Furthermore, in not disturbing the designer's entire production process, the torque chip's performance serves as an effective heat dissipater for motor-driver unit operating in typical environments with temperatures ranging close to 80deg(F). When powering a five-phase motor with the INS50, the torque chip's feature actually increases the life of the motor and enhances its performance by 70% when operating for 190 minutes or longer. Standard five-phase motors being run by their matching drivers can reach up to 212F after just 30 minutes. Using the INS50 with Auto Current Down Disable, the highest temperature of the motor is about 155F after a 190-minute running period. If the temperature of the motor exceeds 212F, the driver will automatically stop the action of the motor until the motor has cooled down. A built-in cooling fan also aides the torque chip in the reduction of heat dissipation.

NYDEN's INS series is designed especially for critical design applications in industries where equipment must not overheat and high resolution requirements must be fulfilled. These industries include: medical, semiconductor wafer handling and processing, IC testing, packaging, metrology and the development of XY tables and high vacuum deposition systems.

Designers will find the INS50's ability to easily define dual nanostep resolutions extremely useful.

The driver, once connected to any general controller with I/O functions, is able to operate two different nanostep modes with just one switch, allowing the designer to save time without having to turn-off system and lose motor position when changing resolutions. Economically-priced and lightweight, both the INS50 and INS500 drivers have opto-isolated inputs and outputs for maximum safety and noise immunity, and accept pulse & direction inputs or bi-clock inputs. Additional features include: auto current cutback at standstill, automatic current shut-off, lit monitor and overheat indicators, built-in short circuit protection, and selectable five-phase motor type with resolution modes via a DIP switch. With a basic step of 0.72; the resolution modes include: 1/1, l/2, l/2.5, 1/5, 1/8, 1/10, 1/20, 1/25, 1/40, 1/50, 1/100, 1/125, 1/200, 1/250, 1/500, and 1/1000.

NYDEN CORPORATION, located in San Jose, California, is the R&D and sales headquarters for MYCOM, INC., of Kyoto, Japan. The company's unique approach to customer service success is achieved by the support of thousands of engineers and end-users worldwide. A multi-million dollar company, NYDEN is proud to carry MYCOM's patented 5-Phase STAR Driver Stepping Systems, a series of low-cost 5-Phase stepper motors and drivers that offer increased true resolution with virtually no low speed resonance problems.

NYDEN CORPORATION supplies a new generation of motion control systems geared for every type of application. We offer 5-phase & 2-phase stepper motors with matching drivers, customized multi-axis programmable stand-alone controllers for steppers and digital servos, ISA and PCI-Bus motion controller cards, and a variety of motion-related accessories. We also work as contractors toward the design of our customers' most fundamental motion control-related application.

For a copy of NYDEN's full color motion control engineer's guide, contact Mr. Roger O'Tate Sullivan at 408-232-7700, or for more information, please look us up at www.NYDEN.com.