Nanopositioning Stages suit super-resolution microscopy.
Press Release Summary: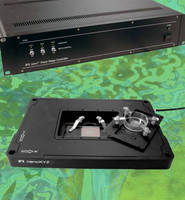 Designed for Leica, Nikon, Olympus, and Zeiss inverted microscopes, PI nano1x3(TM) series XY and XYZ nanopositioning stages offer subnanometer resolution over travel ranges of 200 µm. Featuring 20 mm profile, they include 24-bit controller with USB, Ethernet, and RS-232 interfaces and wide-band analog interface. Units also have 24-bit DAC converters, in addition to piezoresistive sensors applied directly to moving structure to accurately measure displacement of platform.
---
Original Press Release:

XY/XYZ Nanopositioning Stage for Super-Resolution Microscopy



Auburn, MA, PI (Physik Instrumente) L.P. - the inventor of Piezo-Z focusing systems-has added two new multi-axis stages for super-resolution microscopy applications, providing highly accurate motion with sub-nanometer resolution over travel ranges of 200 µm in XY and XYZ.

For all Major Microscopes: Leica, Nikon, Olympus, Zeiss

The new PI nano1x3 (TM) series XY and XYZ nanopositioning stages are designed for inverted microscopes from the four major players Leica, Nikon, Olympus and Zeiss. The low profile design of 20 mm (0.8") facilitates the integration. The large aperture accommodates microscopy accessories such as slide holders, Petri dish holders, etc. An optional 25x25 mm positioning stage serves as a stable basis for the piezo stage.

Features & Advantages


24 Bit Controller with USB, Ethernet, RS-232 Interface and Analog Control


200 µm XY or XYZ Travel, Closed-Loop Control for Sub-Nanometer Precision


Cost Effective due to Low-Cost Piezoresistive Sensors


Very Low Profile for Easy Integration: 20 mm (0.8")


Many Options: Slide Holders & Petri dish Holders; Manual XY Stage, Motor Stage


Longer Lifetime due to Ceramic Encapsulated Piezo Drives


Software Support for Leading Image Acquisition Packages

Datasheets & More Information:

http://www.physikinstrumente.com/en/news/fullnews.php?newsid=157&1x3


Higher Resolution at Lower Cost: Packaged with Special Controller

A newly designed piezo controller is included and comes with three, 24-bit digital interfaces (USB, TCP/IP, and RS-232) and a wide-band analog interface for compatibility with all control signals. With its 24-bit DAC converters, commanded resolution is improved by two orders of magnitude over the still widely used 16-bit converters. Despite the higher performance, cost was reduced. The controller is also compatible with all major image acquisition packages and comes with a wide variety of software drivers and programming examples.

Improved Linearity with Special Servo Circuit

For highly stable, closed-loop operation, piezoresistive sensors are applied directly to the moving structure of the stage and precisely measure the displacement of the platform. The very high sensitivity of these sensors provides optimum position stability and responsiveness as well as sub-nanometer resolution. The proprietary servo circuit significantly improves the motion linearity compared to conventional piezoresistive sensor controllers.

Keywords & Application Examples

Single Molecule Microscopy, 3D Imaging, Autofocusing, Bio-Nanotechnology, SR-Microscopy; Piezo-Stage, Super-Resolution Microscope Stage, Piezo stepper, Deconvolution Microscopy, Autofocusing, Scanning Microscope, Biotechnology.

More from Communication Systems & Equipment