Nanocrystalline Cores suppress EMI currents in motors.
Press Release Summary: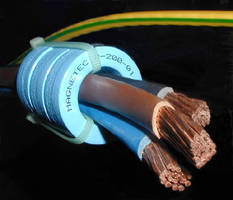 Ranging in size from 63-500 mm O.D. and 50-450 mm I.D. with thickness of 30 mm, Cool Blue® Toroid Cores serve as common mode chokes to minimize build volume of damaging motor bearing currents in high-power inverter systems and turbine generator drives. Units also suppress asymmetrical EMI currents generated by parasitic currents of motors and their cables. Cores provide permeability from 25,000-90,000 at 10 KHz, and saturation flux density of 1,200 mT.
---
Original Press Release:

Nanocrystalline Cores Reduce Over Voltage, Suppress EMI Currents in High Power Motors



MH&W International has introduced Magnetec Cool Blue® nanocrystalline cores for use as common mode chokes to reduce the build volume of damaging motor bearing currents in high power inverter systems and turbine generator drives. Cool Blue cores also suppress asymmetrical EMI currents generated by the parasitic currents of motors and their cables. The result is increased service life of motor bearings, and reduced maintenance and stoppages.

Cool Blue toroid cores are typically placed over the hot legs (L1-L2-L3) of a motor drive cable assembly. To serve as common mode chokes, one or more cores are placed over the connector cables in the DC-link as well as at the inverter output. The cores are easily adapted to retrofit maintenance operations as well as new installs. Typical applications are on high power motors and wind power generating equipment.

All Cool Blue cores are made from iron-based nanocrystalline. This soft, magnetic material provides superior performance to permalloys, ferrites and other materials to more effectively reduce build volume on switched power converters and on AC and DC motors. They provide a wide range of permeability, 25,000-90,000 at 10 KHz, and a saturation flux density of 1,200 mT.

MH&W's Cool Blue nanocrystalline cores are available in a range of M-type sizes including both round and oblong shapes. The smallest core for high power motor applications has an outside diameter of 63 mm and inside diameter of 50 mm. The largest core has a 500 mm OD and 450 mm ID. The standard thickness of all Cool Blue cores is 30 mm. Prices start at $40.00 per piece for the 63 mm OD size in 100 piece quantities. More information on Cool Blue toroid cores can be found at magnetec.mhw-intl.com or by calling 1-201-891-8800.

MH&W International provides innovative, customer-focused magnetics solutions, including toroids and other products. The company supports the telecommunication and power supply industries with products, technologies, and services.

For more information, please contact:

Gary Van Schaick

MH&W International Corp.

Magnetics Division

14 Leighton Place

Mahwah, NJ 07430

Tel: 201-891-8800 X543

Email: magnetec@mhw-intl.com

More from Cleaning Products & Equipment