Nano-Precision Z-Stage features hybrid design.
Press Release Summary: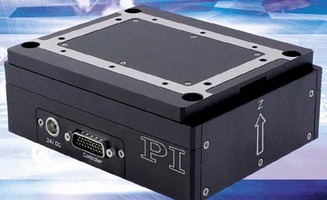 Delivering 2 nm linear encoder resolution, M-714 precision Z-stage and C-702 Hybrid Controller employ piezoelectric and DC-motor drives. This fully-integrated hybrid Z-nanopositioning system offers active backlash compensation as well as active compensation of stick/slip during startup and settling, which also lends to velocity control. Product has ¼ in. vertical travel range and 22 lb vertical load capacity and does not require counterbalance mechanism.
---
Original Press Release:

Hybrid Nano-Precision Z-Stage Combines Advantages of Piezoelectrics and Servo Drives



Auburn, MA, - June 2006 - PI (Physik Instrumente) L.P., a leading manufacturer of nanopositioning and precision motion-control equipment for nanotechnology, photonics, semiconductor and life science applications, introduces the world's first fully-integrated hybrid Z-nanopositioning system employing piezoelectric and DC-motor drives. The M-714 precision Z-stage / C-702 Hybrid Controller combine the well-known piezo drive advantages of unlimited resolution and very fast response with the long travel ranges and high holding forces of a servo-motor / ballscrew arrangement.

Typical Applications
Metrology, Surface Inspection, Microscopy, Laser Technology, Interferometry

Features & Advantages
o 2 Nanometer Linear Encoder Resolution
o Active Compensation of Stick/Slip During Startup and Settling
o Active Backlash Compensation
o Excellent Velocity Control
o Millisecond Settling to Nanometer Accuracy
o Reliable Execution of Nanometer Level Increments
o 7 mm (1/4 inch) Vertical Travel Range
o High Holding Forces with Minimum Power Consumption
o 10 kg (22 lbs) Vertical Load Capacity
o No Counterbalance Mechanism Required

Hybrid Controller Technology is Key to Success
The highly specialized C-702 Hybrid Controller reads the stage position from an integrated, 2 nm precison linear encoder and continuously actuates both the piezoelectric and servo motor drives in a way to provide the best possible overall performance. Due to their instantaneous, sub-millisecond response, the integrated piezo actuators provide active stick/slip compensation during startup and settling. They also improve velocity control and positioning performance when nanometer level steps need to be executed.

Novel High-Bandwidth Encoder Interface, Realtime Operating System
The C-702 Hybrid controller is equipped with a novel high-speed encoder interface and can handle encoder count rates of 100 million pulses per second. Thanks to its real-time operating system, the intricacies of the hybrid drive are completely transparent to the user. Interface to the host computer is via TCP/IP or RS-232; this interface makes it possible to operate and monitor the system over any TCP/IP-compatible network (intranet/internet).

100 mm Translation Stage also Available
A 100 mm hybrid translation stage is also available.

More from Communication Systems & Equipment