Programmable Logic Controllers
Nano PLC remotely manages equipment.
Press Release Summary: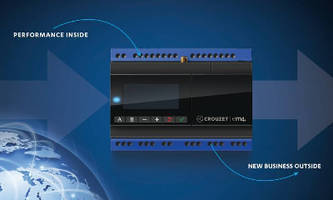 Developed for customers specializing in small machine-to-machine technology, em4 nano-PLC provides totally integrated solution for integrators and OEMs that allows them to connect devices via internet on demand, without additional modules. Three versions are available: em4 remote is fully connected to secure infrastructure; em4 alert can send SMS or email alerts; and em4 local is designed for applications that do not require remote communication or require only LAN.
---
Original Press Release:

New em4 - First Remote PLC Provides Easy Application Migration to Digital Era



Crouzet Automation em4

The smallest and easiest way to remotely manage equipment and generate new business.



Moorpark, Calif. — Crouzet Automation has launched the em4, a high-performance nano-PLC that is able to communicate as part of the Internet of Things.  The innovative em4 constitutes a significant growth platform for OEMs and integrators who are looking for an easy way to move their application into the digital era. It also provides a new, ready-to-use infrastructure along with an ecosystem of online tools and services, creating new added value for their customers.



Developed for customers specializing in small machine-to-machine technology looking for a means for connectivity of their installations, the em4 nano-PLC provides a totally integrated solution for integrators and OEMs (industry, infrastructure and buildings) that allows them to connect their devices via the internet on demand, without adding additional modules.  The new nano-PLC can be fully remotely controlled and allows customers easy expansion with new cost-effective models, making it ideally suited for a variety of markets including water treatment, access control, building equipment, and small industrial machines.



Sébastien de Peretti, General Manager of Custom Sensors & Technologies' Automation Business Unit, has no hesitation in talking revolution when he mentions em4: "The new technology meets our customers' key expectations in different markets.That is why we are introducing a totally new, unique product that is based on a nano-PLC.  The em4 complements Crouzet Automation's current range of Millenium 3 logic controllers and builds on our reputation of providing easy-to-use, adaptable and application-oriented products backed by strong technical support."



Crouzet Automation has created three versions of the em4 and has also rolled out the "em4 lab", an environment similar to a "toolbox" that includes all tools, services and partners. It allows customers to reinvent their applications and thus generate new business opportunities.  The em4 series is comprised of the following:

em4 remote: fully connected to the secure infrastructure

em4 alert: capable of sending SMS or email alerts

em4 local: designed for applications that do not require remote communication or require only a local area network



The em4 remote, the flagship product in the series, features the major advantage of being connected to the internet, thus offering programming, monitoring and control, and data logging functions that allow remote management of an application, a single machine or a fleet of machines. This is where Crouzet Automation's product differs from other solutions on the market: em4 is part of the Internet of Things, and opens up a world of communication capabilities to all customers, even those without experience in managing network infrastructure or complex automation systems. In this sense, em4 remains true to one of Crouzet Automation's key values: "easy to use".



In terms of data exchange, em4 remote has no embedded web server, but operates on a machine-to-machine connection. This is essentially an exchange of raw data between the controller and the dedicated server. Communication is therefore optimized and the server's memory space is prioritized over the em4's embedded memory.   Like its built-in communication capabilities, the em4 remote offers a complete solution including the nano-PLC, SIM card, data exchanges and remote access web and mobile platforms named em4 web and em4 app.



Consistently, em4 lab meets the needs of both OEMs and their customers who wish to manage several machines as a fleet through a number of tools such as: the em4 soft, the most intuitive software on the market and compatible with the Millenium 3 software, offering the ability to program all communication directly in a unique software solution, simply and in graphic form; or the em4 web, to manage users, devices, data and applications remotely.



The machines are then accessible at a single point on the server, in order to simplify the compilation of data. The "on-demand" server connection can also be used to locate a faulty installation. It is equally possible to benefit from geo-location.  All this plus numerous possibilities for managing events, datalog or alarms.



For more information, visit the em4 dedicated website www.em4-remote-plc.com/ or contact Dave Carver at dave.carver@crouzet.com or (678) 880-6482.



About Crouzet Automation

Supported by an experienced technical team, Crouzet Automation is a pioneer in the simplification of programming. The brand offers the easiest-to-use and most adaptable alternative automation solution for specialized and demanding needs.



Manufactured in compliance with the most stringent quality and environmental standards, our products are specifically suited for integration in a wide range of applications such as waste and water treatment, access control, renewable energies, building equipment, industrial machines and transportation.



Crouzet Automation is a brand of Custom Sensors & Technologies (CST).

www.crouzet.com



About CST

Custom Sensors & Technologies (CST) is a specialist in designing and manufacturing sensing, control and motion products.



Through its brands, BEI Kimco, BEI Sensors, BEI PSSC, Crouzet, Crydom, Kavlico, Newall and Systron Donner Inertial, CST offers customizable, reliable and efficient components for mission-critical systems in Aerospace & Defense, Transportation, Energy & Infrastructure, Medical, Food and Beverage and Building Equipment markets.



Focused on premium value offers and committed to excellence, CST, with 4.500 employees worldwide and sales of $600M US in 2013, is the dependable and adaptable partner for the most demanding customers.

www.cstsensors.com

More from Food Processing & Preparation