NanaWall Highlights Extreme Performance at International Builders' Show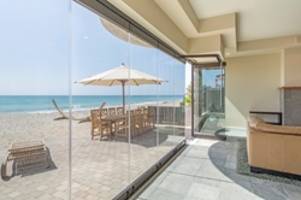 Company to display hurricane-resistant SL73 and minimal-framed cero
NanaWal Systems, the pioneer of opening glass wall systems, will be showcasing new features and glass wall systems that exemplify extreme performance at the International Builders' Show (IBS) in Orlando, Florida, Jan. 9-11 in booth W3990. Cero® will make its IBS debut, offering the largest panes of glass available from NanaWall. The SL73 will also be on display, featuring reinforced structural posts that provide unparalleled strength and enable the glass walls to meet and exceed Miami-Dade AAMA certification requirements.
"Our opening glass walls transcend the concept of large glass openings, facilitating a year-round connection to the outdoors, even in the harshest conditions," said Ebrahim Nana, CEO of NanaWall Systems. "We look forward to displaying our most innovative and top-performing glass wall systems at IBS."
NanaWall will be showcasing several glass wall systems, including:
Cero®: Cero offers pure architectural minimalism through its clean, uniform and ultra-thin lines for maximum light-filled spaces that connect the interior to the exterior. It offers the largest panes of glass available from NanaWall.
SL73: The NanaWall SL73 features reinforced structural posts and impact rated laminated glass provide unparalleled strength- while the Secure Locking System and specialized seals and panel design provide superior wind and rain resistance - enabling the system to perform above and beyond Miami-Dade AAMA certification requirements.
Kitchen Transition with RemoteSTACK: NanaWall continues to evolve the indoor/outdoor kitchen trend by offering Kitchen Transition with RemoteSTACK, which enables architects to free up valuable space in the kitchen by stacking panels away from the traditional opening. This gives architects control to design around structural obstacles and remove the panels from view, creating a solution for homeowners that offers maximum space flexibility.
ClimaCLEAR™: NanaWall ClimaCLEAR is the only frameless all-glass individual panel sliding system specifically engineered for transparent weather protection.
Screen ONE XL: Making its IBS debut, the Screen ONE XL is a fully retractable, non-pleated screening option with minimal verticals made of ultra-strong, UV resistant fiberglass mesh housed in a single cartridge riding on a single track.
For more information about NanaWall and its products, please visit blog post "Performance Matters" https://www.nanawall.com/blog/performance-matters.
About NanaWall Systems
For over 30 years, NanaWall Systems has pioneered the category of opening glass wall systems. The company has earned the trust of architects, builders, design professionals and homeowners as a custom solution for re-imagining how buildings, people and the elements interact. By combining precision engineering and outstanding design options throughout more than 25 unique award-winning systems, NanaWall Systems advances design possibilities beyond the conventional for almost any space. NanaWall Systems is headquartered in the San Francisco Bay Area with 24 showroom and design studio locations across North America.